Are your images getting used on other blogs and websites without giving proper credits or without your permission. Well in that case you can use these free wordpress watermark plugin to safeguard your ownership.
If you are a photographer or a graphics designer then your creative arts, illustrations and graphics are most valuable to you. But it's genuinely hard task to protect your graphical content online unless you know some advanced techniques like steganography or segmented images. But there's one more much simpler method using which you can prevent image plagiarism and it's called watermarking.
You can use applications like Photoshop and Gimp to add watermarks. But do you what, it can be really tedious task if you have hundreds of pictures unless you know how to use action scripts.
Watermarking your images can be to be a profitable task as it help to bring some traffics to your site. Let's say someone downloads your image with your brand's logo on it. Then he/she use it on his/her blog post and let us assume that blog post goes viral on internet. Now just imagine what will you get. First you get free promotion and second you get lots of direct hits on your homepage.
But now the question is how to add watermark to images without spending hours on complicated softwares. Well I think the answer is really very simple. You have to just scroll down, check out few of the plugins and choose one for your website. After you install any of them, that plugin will take care of your images and your ownership.
Note: Watermarking is not the best suitable way of protecting your graphical content online. It's just a way by which you can prove ownership and nothing more.
Marekkis Watermark Plugin
Marekkis is a simple and effective plugin which can add watermarks in two different ways. It can add the credits to the images when they are first uploaded via media uploder. This option has less impact on your server resources and will not slow down your website.
The second option is to add the appropriate credits to all your images in your upload folder. This will require great deal of server resources. If your ram usage exceed your hosting limit then your account may even get suspended temporarily.
Considering the setting options, you can either use the image based logo or the simple text. If you are going to use image then its better to use transparent png. But if you choose to use text then you can set the custom font family, font size, colors and its transparency.
Scissors and Watermark
It's an advanced plugin which has capability to rotate, modify, crop and compress your images. With scissors you can either manually add watermark or make this process automatic. Whenever you upload any image they are resampled to defined size using the bi-linear filtering. This process not only compress the image but also helps to retain the same quality of your pictures.
One of the biggest disadvantage of using this plugin is that it doesn't support texts. This means you can only use the picture based logo. But then you get freedom to align your logo in different locations.
Image Watermark
This plugin has been developed by dfactory and has lots of awesome features. It can automatically add watermarks to images in wordpress. You can even choose the bulk option which will add your credits to all previously uploaded images.
This little plugin gives you complete control over the position of watermarks. You can align its position to top, dow, center and other alternate positions. You can also set the image quality, its opacity and the width. If you want then you can automatically resize the logo or can keep its original size.
Furthermore it has few advanced options. You get option to disable right-click, disable drag and drop and inbuilt image protect for logged in users.
WP Image Protect
It's a very powerful plugin which makes the watermarking process really simple. It allows you to add watermarks to your pictures when they are uploaded or you can even use the bulk option.
One of the biggest advantage of using this plugin is that it doesn't modify your images and thus the real quality is maintained.
One another unique feature is its ability to remove the watermarks from the images. I don't think any other plugin can do so. With image protect you can even add the text credits. You get options to change the default font, change the color, size.
If you want then you can also prevent individual images from watermarking. Furthermore you can align the credits at different positions and its visibility.
Watermark Reloaded
It's a sweet and simple plugin which allows you to protect your pictures with user friendly settings page.
This plugin even has a professional version with lot's of more advanced features. The free version can only add text-based watermark but you have full control over color, font family and you can set custom position.
Easy Watermark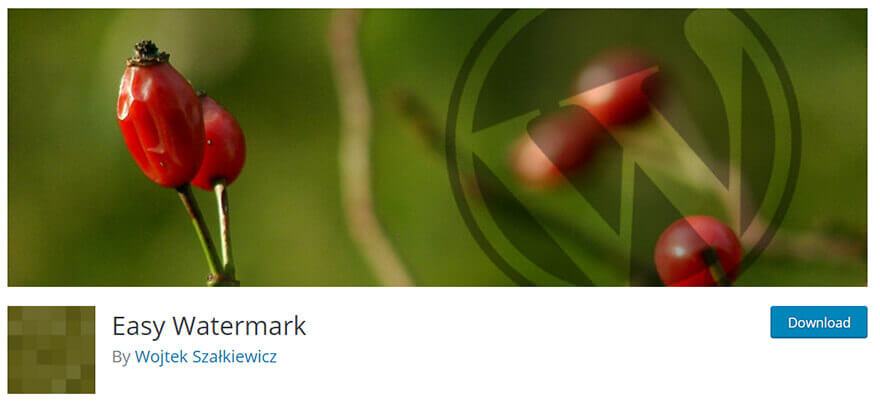 Just as the name suggests allows you to automatically add watermarks to all your images. One of the advantage of using this extension is that it support all formats of images. I mean you can use jpeg, png, jpg and even gif images as your watermark. This is one of the most unique feature you will ever find in any other plugin. Another great feature is that it supports text-based credit and they are created with ttf fonts.
WP Watermark Site
It is one another great add-on developed by Chris Joseph which can help you to protect your graphical contents online. It is a 4.5 star rated add-on and has more than 100+ active installs.
It has a straightforward control panel through which you can choose the type of watermark you want to add. Basically you get two options. The first one allows you to add text based copyright message. Once you click on it you get more advanced options to set the position of the text.
The second option allows you to add graphical copyright message. Once you select this option you get more advanced customization options through which you can modify the position of your image based watermark.
Conclusion
All the plugin which I have listed in this post are free and easy to use. They all give you custom option page from where you can perform settings for best performance. All these addons have just one simple function and that is to protect original credit.