A content marketing strategy is a comprehensive plan for using content to achieve your business goals. Its purpose is to attract and engage people who would be interested in your products or services. 
Creating content and posting it online is not enough, though. You need a proper content marketing strategy to succeed – from content planning through creation to content distribution. 
And to show you how important strategy is for content, 64% of the most successful B2B marketers have a documented content marketing strategy. 
This article will help you craft the perfect content strategy to support your business growth. We'll walk you through every step of creating an effective content strategy. Let's get started.
1. Define Your Content Strategy Goals
To start, you need to understand what you want to accomplish and how your content can support that. For example, do you want to build your personal brand and boost awareness? Are you trying to generate leads for a certain product or business? 
Determining your goal makes it easier to plan everything else. For example, you'll know exactly what kind of content to produce. Next, you'll know the exact audience you're targeting. 
Moreover, it'll show you the content distribution channels you'll need to pay attention to. For example, you may need to distribute your content on social platforms like Twitter and Instagram. 
A good content distribution plan will help you get more Twitter and Instagram likes and followers. But more importantly, it'll help your content reach more people. We'll talk more about content distribution and amplification later. 
Defining your content strategy goals also makes it easier to set key performance indicators. For example, if you want brand awareness, you'll know KPIs like branded search, website traffic, and impressions are vital.
On the other hand, if the goal is lead generation, KPIs like form signups become really important.
With these KPIs identified, you'll have an easier time tracking the performance of your content strategy.
2. Create A Buyer Persona
A key to a successful content strategy is knowing your target audience. You need to know who you address with your messages at every point of content planning and creation. Knowing your target audience allows you to produce relevant and valuable content that they'll want to read and interact with.
To make target audience research easier, create a buyer persona. This is an imaginary profile representing your potential customers. To create it, you need to research your audience demographics, where they spend time on the internet, and their motivations and struggles.
Here is a buyer persona example.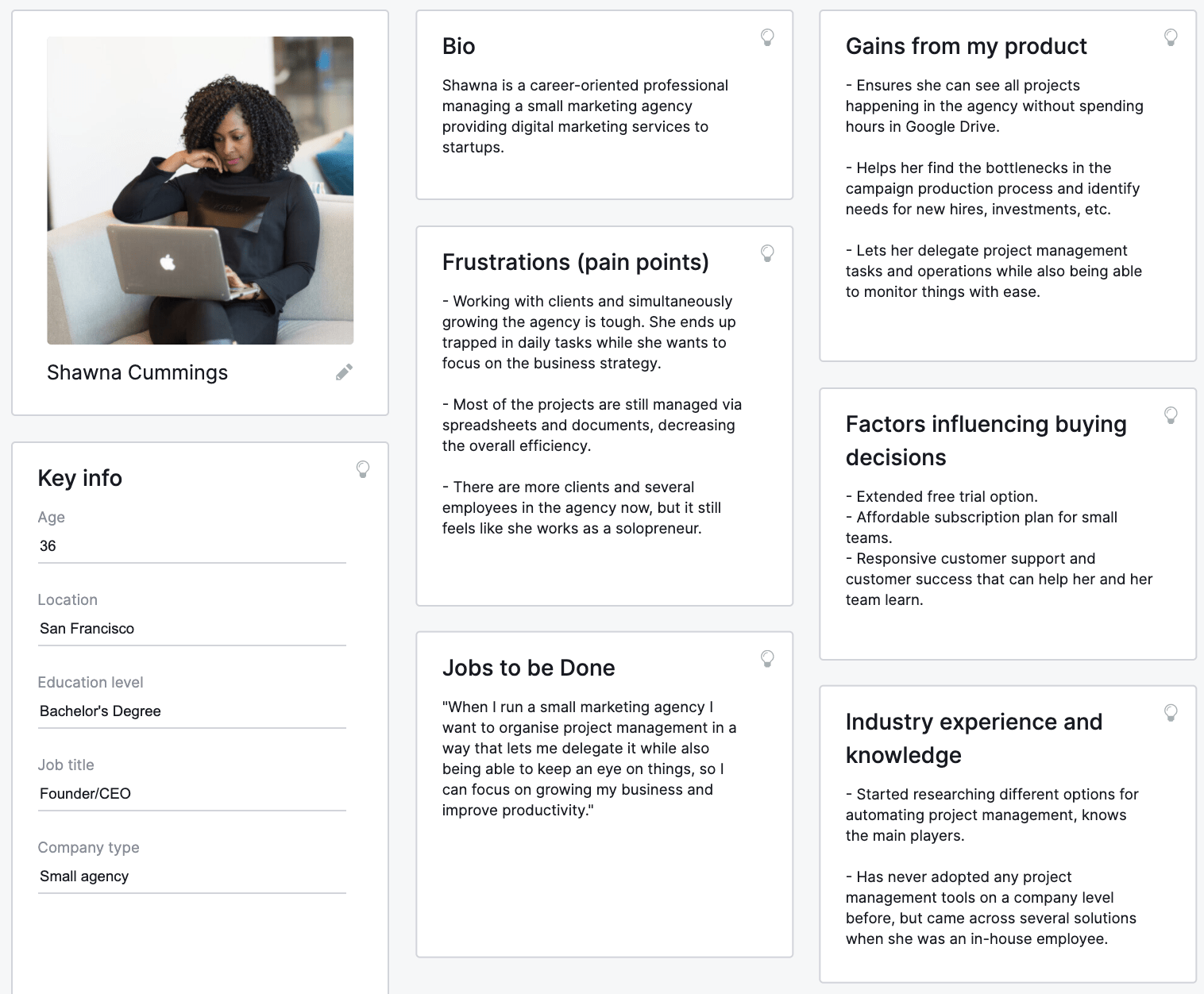 Here are several things you can do to gather the information for the buyer persona research:
Search your existing contacts database and identify attributes like location, age, and interests.

Conduct competitor and market research to identify what the ideal customer looks like.

Create forms on your website and use fields that capture crucial personal information. 

Survey existing contacts through email or your social media accounts
With this information, you can capture the traits of the perfect prospect and create a relevant buyer persona. This will make it easier for you to produce content that will meet your users' expectations. 
3. Conduct A Content Gap Analysis
When creating a content marketing strategy, it's important to assess what you're missing. This is usually done using content gap analysis tools like Ahrefs and SEMrush.
These tools will analyze your website and compare it against your competitors. It'll then highlight all the keywords your competitors are ranking for, and you're not. 
For example, in the screenshot below, we see some keywords that Moz and Yoast rank for, but Ahrefs doesn't.
Filter the keywords you get here to identify the most relevant ones. From there, you'll need to fill those keyword gaps by creating relevant content to close in on your competitors. 
Additionally, you'll need to conduct a content audit to find what is missing in your existing content. This allows you to assess your worst and best-performing content. It'll also show you duplicate content.
From the content audit report, you'll identify content that needs to be deleted (like duplicate content) and one that needs to be updated. For example, if a certain post used to perform well in the past but has since tanked in rankings, it may be worth giving it an update.
4. Create Content Around Your Niche
As mentioned above, it's crucial to investigate what content your competition creates. You can find topics to cover with your content by doing competitive research. 
It's important to stay focused on a specific group of topics as that makes it easier for you to rank on search engines quickly. You can achieve this through topic clustering, a powerful technique often used to organize themes and topics for blog posts.
In the topic cluster method, you have a pillar page that sets the tone for supportive pages. A pillar page usually describes a specific topic from a broader perspective, and supportive posts go into more detail about the subtopics of your pillar content.
For example, say you want to provide marketing services to software companies. In that case, you may have a pillar page targeting a keyword like SaaS marketing strategy. Then, you'll need to support the pillar page with additional content covering the different SaaS marketing strategies like SEO, account-based marketing, email marketing, and so on.
To enhance your content strategy further, consider incorporating video content. Videos are a powerful medium for engaging your audience. You can create video content that complements your written content. For instance, alongside your pillar page about SaaS marketing strategy, you can create informative videos explaining the key points, showcasing real-life examples, or conducting interviews with experts in the field. Additionally, using an online video editor tool to create and edit videos that are more appealing can significantly improve the quality and impact of your video content.
Using such content clusters ensures you have a content plan for months ahead. You'll also know exactly how every topic fits into your strategy.
5. Measure Your Content Marketing Performance
The time will come when you will want to know if your content marketing efforts give the results you expected. 
Once you've set your goal and created the content accordingly, you need to track the right metrics. Such metrics can include Google rankings, conversion rate, or organic traffic. Remember to include only the ones that support the goals you set in the beginning.
You can create a live dashboard or use search engine optimization tools to derive data and easily track your metrics. 
For example, you can use Google Search Console, which identifies the terms you're ranking for and monitors how your ranking changes over time.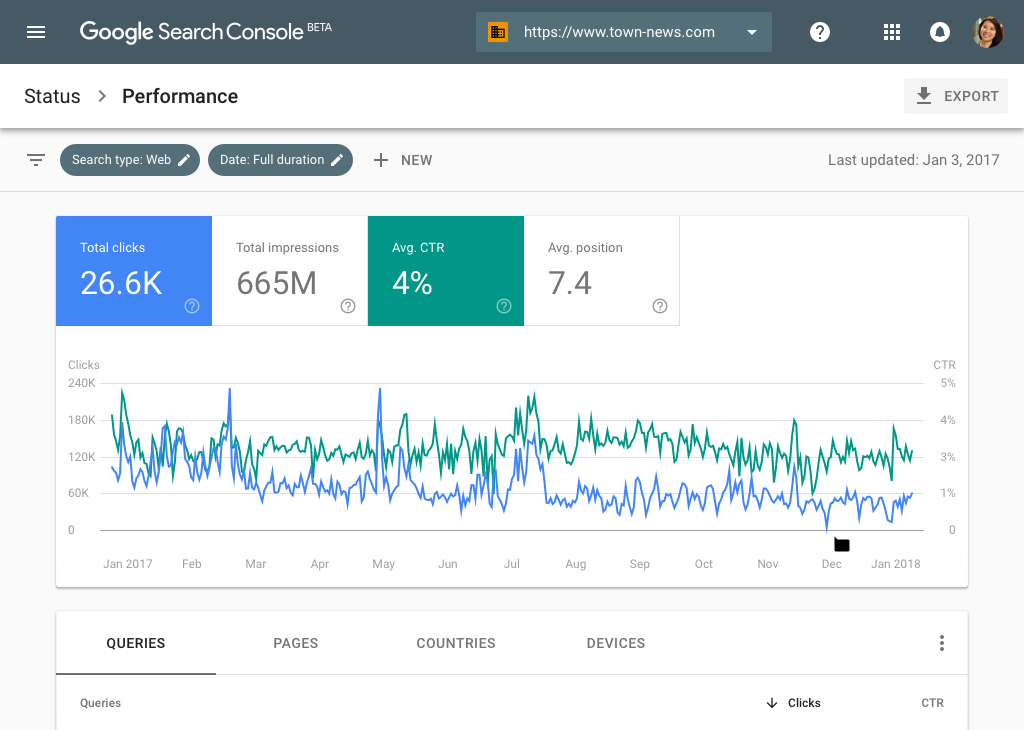 Then, you need to determine how to describe and analyze your chosen metrics. For example, you can report performance against the previous month, quarter, or year. Google Analytics is a great tool for tracking website engagement. All you have to do is determine which data you want and put it in your report.
Tracking and reporting your results can really make a difference in how you craft future content strategies. It's the only way to know whether your content strategy is working or not.
6. Amplify Your Content
Many assume the job is done if they put effort into writing blog posts once. However, content marketing is an ongoing process.
When you measure how blog posts perform, you will see fluctuations. It's completely normal, but it requires action on your end. You need to work on your content continually to optimize and update it. 
Remember, SEO is an ever-changing landscape. That means you need to update your content and strategy as trends evolve.
It's also important to check your posts for relevancy. Information can quickly become outdated if you don't stay on your toes. 
You shouldn't assume that because your blog post worked a month ago and brought you loads of website traffic, it will continue to do so. You have to keep it updated. The best practice is to update your content at least once every year.
If you want to increase the chances of your content performing well, you should also add amplification to your content strategy process. After you publish, share posts multiple times across several social media platforms.
The social channels you choose will depend on where your target audience hangs out. You should have this data in your buyer persona created above. 
Moreover, consider reaching out to other bloggers and building links to your content. This will help spread the word about your posts and brand in general. It also supports your SEO efforts.
In Closing
Creating the perfect content strategy can be difficult, but it gets easier as you gain experience and learn what strategies work. Remember, creating high-quality, usable content can be invaluable in building trust with new audiences and succeeding in the long haul.
This guide covered six steps that go into creating a solid content strategy. Start by defining your goals, then create a buyer persona. Next, conduct a content gap and content audit analysis. From there, start producing your content and measuring its performance.

Finally, come up with a great content amplification strategy. We've shared two effective techniques for amplifying your content. 
We hope that with our tips, you can create the best content strategy framework for your professional blog. Happy content creation! 
Author Bio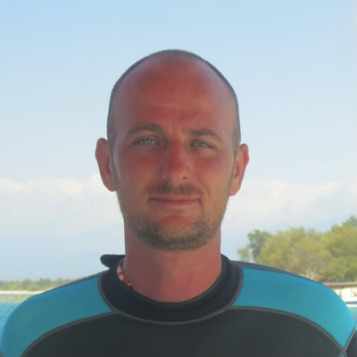 Nico Prins
Nico Prins is the founder of Crunch Marketing, a SaaS Link Building Agency. The company works with enterprise SaaS clients, helping them scale lead generation globally across EMEA, APAC, and other regions.