Keeping a backup of WordPress database and all its essential files is the best way to keep your site ready for any future hack attempts and data loss. And in this guide, I will show you hot to backup WordPress to dropbox, fast and safely.
You all know that WordPress is a popular blogging platform. And that's why it has always been the target for most of the web spammers. Most of them are crackers who try to install redirecting scripts on your websites. Then they will redirect your readers to some affiliate products and malicious websites and it will later lead to Google panda penalty on your site.
Assuming that your website is hacked, Google will notify you with an email considering the problem. And they will even block your website so as to protect your visitors. This will surely create a great loss of authority, money, and time.
Now you will have you either fresh install your blog or will have to find and delete that malicious script from your server. However, if you don't have any backups then you will lose all your contents and all organic traffic.
I know it's a great loss but you will have to suffer it. Just because of one simple mistake.
So overall, it is a god idea to create WordPress backups on the regular basis. After all, who knows when your site will go down due to theme complication, plugin instability, or failure of the server. So let us move forward and see how to backup your WordPress site to dropbox.
Backup WordPress To Dropbox In 4 Simple Steps.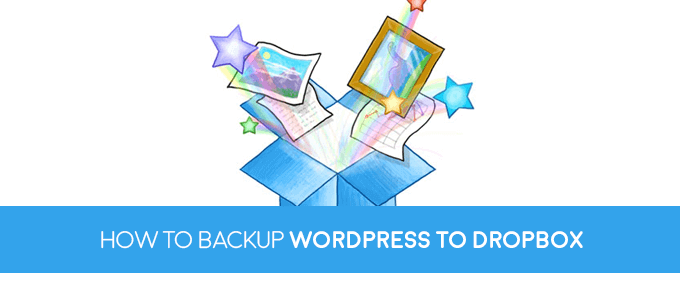 For regular backups, I usually suggest using dropbox along. It isn't only free to use but it is also very easy to setup with backup plugins. Furthermore, you can extend dropbox storage by referring your friends and family members.
Why I use dropbox?
Well, it's a cloud storage service provider who stores your files and contents on their secured servers.
But before you start using their service you will have to first subscribe to any of their subscription plans. The basic account is free to signup and you will get 2GB to 18GN free storage. By paying $9.99 you account get upgraded to professional and you get 1TB of storage. Then if you are ready to pay $15 per user per month then you will get unlimited storage with priority support. I am basically using their basic plan and I never needed more than 10GB.
Why I use this WordPress backup to dropbox plugin?
It's easy to use and yet very powerful plugin. It easily connect with your dropbox account from within your blog and helps you to upload all your files, folders, and database to it. It also shows you the free account space, total memory consumption, upload limit and dynamic log.
Furthermore it even gives you the option to install premium add-ons for more powerful functionality.
Step 1: Install Backup WordPress To Dropbox Plugin.
Download the plugin and upload it to your website. You can either use some FTP software or you can also use CPanel upload manager.
You can also use WordPress inbuilt plugin search functionality to install it directly on your website.
Step 2: Now Activate This Plugin.
After successful activation, you should be able to see a new icon in your side navigation with text WPB2D. Now put your cursor on WPB2D and from hover on menu select "Backup Settings".
On this page, you will find Authorize button. Click on it so as to connect your dropbox account with WordPress.
This is one-time connection requirement and can also be disconnected with one click. Once you complete your authentication process you will be directed to the new page. On this new page, you will be able to see your dropbox account details, history, settings and list of directories.
You also get the option to unlink your account. Then you have a button to help you clear all your previous logs or history.
Under the setting area, you can save your backup locally on your server under subfolder created by WPB2D. Over here you can also select the time and the frequency to create the complete backup.
Then under the exclude directories and files section you can choose single, multiple, all or none of the files which will be listed. It's dynamically generated list which will change if you create any additional folder in your server's root area.
Finally, once you are completed you can click on save button to accomplish the task. But this is just automatic settings.
Creating Manual WordPress Backup
If you want to instantly generate backup files then you will have to move to logs section. The path is something like Your website admin panel >> WPB2D >> Backup Log.
This is the exact screen you will see except the blurred area and text. For safety reason, I have blurred this area. Now getting back to the topic for manual creation you have to just click on button Start backup.
That's all. Once you click it will start presenting you live logs along with upload statistic, upload limit, and server memory allocation.
UpdraftPlus
A complete backup solution for any WordPress websites. It offers a complete range of backup options along with the ability to select multiple or all files, folders, and database. You can even compress them so as to reduce the size of compressed files. It also support schedules and so it can help you automate most of your task and finally provide you with debug logs.
The best part is you can also restore every backup with just one click. Though this option will restore all previously saved posts, pages, themes and plugin and other data. But this is a really great feature and can help you immediately restore your website after any hacking or web host transfer.
Currently, it offers multiple options to safely store all of folders and database files. You can use Dropbox, Google drive, Rackspace, amazon s3, email account or other services. I personally suggest using Dropbox, Gmail, and Google drive. They are cloud hosted, safe and easy to use.
One another great feature of updraft is that it support encryption. This means you can encrypt all your files for further security.
BackWPup – Free WordPress Backup Plugin
Backwpup is a feature rich plugin since it goes beyond of just creating backups. It has options to optimize and repair all your database files. Then you get the option to create automatic WordPress backups with scheduled functionality. You can either save your database or all your directory folders. Further more you can compress them in .zip, .tar and other formats so as to save the storage space.
It even provide you compatibility with multiple storage services and also has a professional version with move advance features.
There are many other plugins both in paid and free version. But they all have almost same features and so I felt that I don't need to list them. This three plugin are few of most downloaded and popular plugins in their category and also have the good rating. So if you are planning to backup WordPress to dropbox then I will suggest bookmarking this guide as it will help you a lot.