The website's contact form is one of the most integral components to be taken into consideration as it is the primary source through which customers can connect with you and your brand – be it for getting more information or reporting any issue.
Since the inception of the WordPress, business owners are likely to invest in smart and productive means for all their website related requirements including website creation, plug-ins for add-on functionality and even contact forms, incorporating icons, etc.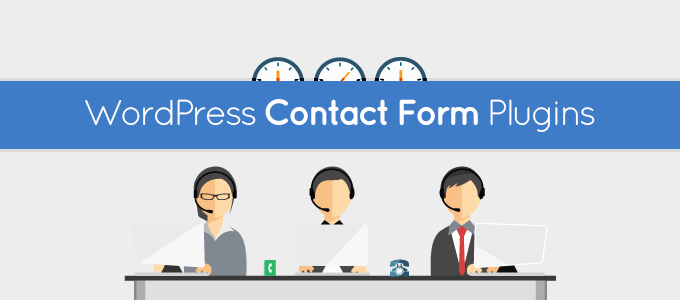 You can enjoy a variety of quality options in contact us form plug-ins as WordPress has a solution for every business need -small or large. If you don't want or have much to spend on the website, you can opt for the free plug-ins.
On the other hand, if you have fixed some budget for your site to gain a competitive edge over others in the market, you can look out the premium options of contact form plug-ins. Don't worry! You don't need to crawl on several websites to sort out the best plug-in for your site. You can find them all in this post.
Let's dive in deeper to gain more insights into some contact form plug-in options that worth the investment
Quform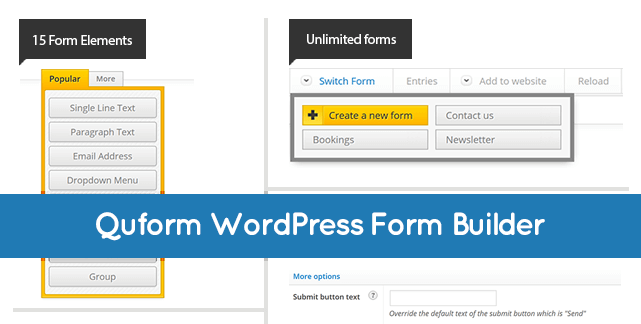 It is a meticulous form builder that will help you build as many forms as you need. It can be used for booking form as well as contact us form. You don't need to have any expert knowledge to integrate this plug-in into your website.You can start up smoothly with its drag-and-drop elements. You can view the form entries through the panel that are sent back to the database. It is compatible with fifteen types of elements including six filters and nine validators for sorting down the invalid data.
You can start up smoothly with its drag-and-drop elements. You can view the form entries through the panel that are sent back to the database. It is compatible with fifteen types of elements including six filters and nine validators for sorting down the invalid data.
Mapped Contact Form Pro WordPress Plug-in
It is an Ajax-enabled contact form that comprises of Google maps marker info window that works for multiple locations. You can address each area with a different and distinct email addresses. Post this, the map info window along with the contact form will pop-up if you have specified the location on the map.
You can unveil the contact form with the utilisation of shortcodes. Another impressive aspect of this plug-in is that it offers offline validation with Jquery.
Creative Feedback Form with Voting System
It is a unique and ideal way if you want to interact with your customers to gather their feedback. It comprises of four colour styles that can be altered as per your preferences. It is backed up with a light-in-weight script having easy localisation and captcha.
WordPress Ajax Contact Form with Attachments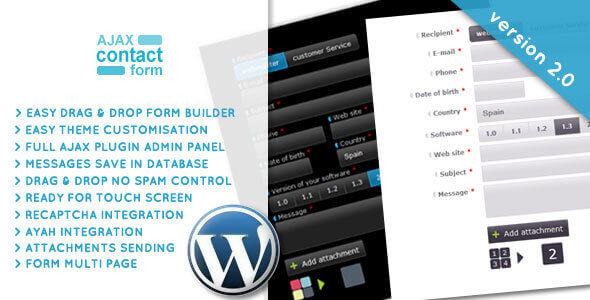 It is a flexible WordPress contact form plug-in that has got everything a business owner wish. To keep the spamming activities restricted, this plug-in makes use of drag and drop captcha comprising a complete solution for limiting spams. You can also integrate your HTML and CSS templates.
Simple Contact Slider
It consists of five default contact form and slider tab methods. With its complete control over the pages, displaying the contact slider is not a hectic task to accomplish. It can also add extra CSS classes in the slider for an additional bit of styling. The text and HTML templates for email can be easily customised for sending as well as receiving messages.
ARForms
An exclusive WordPress form builder plug-in that comes with an inbuilt support for integration facility of multiple email marketing system.
Contact – Friend Inviter Gold plug-in & Widget
You can enjoy the flexibility to shift the invite form's design with the help of this plug-in. Offering support for plug-in and widget, this flexible contact form plug-in makes use of other plug-ins like Jquery and Thickbox for the integration of pop-ups.
The message, subject and from, in the settings of the widget can be customised quite easily. It is compatible with 18 different email service providers including Hotmail, Yahoo, Gmail, etc. It offers an added advantage of encrypting new email account's passwords. It works well with the variety of browsers- be it old or modern.
Ether Forms Builder WordPress Plugin
Another flexible form-creating tool. It allows you to build even the most difficult and sophisticated form styles quickly. It can also work flawlessly with third-party themes.
To pace up with the need of mobile generation, it offers columns and widgets with responsive layouts. You can integrate shortcodes or HTML codes in widgets. Moreover, you need to press a button to switch onto some other styles. Each entry on the form can be seen through the admin panel. It also supports the file uploads and reCaptcha.
Daisy – Fancy Popup Contact Forms
It offers the contact forms with user-friendly functionality that results in the improved user experience. It comprises of wonderfully rendered popup modal that works well with different types of WordPress Sites.
This form builder is designed using Jquery UI, Colorpicker, highly flexible and customizable features and six modal themes.
Ultimate Contact Page
This plug-in allows you to add the contact form to connect with customers. It has the potential to format your address as per the standards of schema.org so that every search engine can index your location on the Google Map.
You can also use the shortcode for displaying the contact form on almost any page. It comes with an optional MailChimp support. If you don't find this feature useful, you can easily disable it without any much difficulty.
Gravity Forms
It is one of the most popular plug-ins for contact form in WordPress premium category and presently boasts more than 857,000 installations.
It is a feature-packed plug-in comprising lot of add-ons and is extremely easy-to-use. While the license cost is a bit expensive, the outstanding quality support and exceptional service integration make it one of the best options to choose.
FormCraft
Sold through CodeCanyon, it is another great plug-in that allows you to access the advanced features including custom fields i.e. smilies, stars, thumbs up, thumbs down, etc. It has autosave functionality, form analytics, conditional fields, transitions and integration in the many renowned email marketing services like Campaign Monitor, AWeber, MailChimp, etc.
nForms
It is often referred as the younger sibling to FormCraft implying that both the plug-ins are created by the same developer and possess similar functionality without any extra whistles and bells.
Over a very minimal price, you get access to responsive designs, multi-column layouts, drag and drop form builder, file uploading, database storage, Ajax submissions, and excellent support. If you are willing to pay and looking out for the simple and straightforward approach for contact forms, nForms is possibly the best solution for you.
WordPress Ajax Contact Form with URL Tracking and Customisable Settings
You can reap the benefits of numerous features that WordPress Ajax Form with Tracking and Settings offers. It has various unique features like beautiful validation workflow and messages, easy-to-navigate interface, tracking of form, sliding effects, multiple forms styles, auto responder customisation, captcha with scientific questions and email forms.
Ajax Contact Forms
It is the contact form plug-in that is designed with HTML, PHP and Ajax along with the advantage of Twitter Direct Messaging. You can save your bandwidth with the help of Ajax. Every requisite field is integrated with a validation script. You can make as many forms you want and embed those using shortcodes and PHP functions.
Therefore, don't be bothered by programming and coding headaches anymore when you have simple hacks for the functional website. Simply use WordPress premium plug-ins and enjoy seamless services.