Here's a great list of WordPress SEO plugins which I use and suggest to all my readers.
Today WordPress is used by more than 50 million websites, and it is undoubtedly the best blogging platform ever built. Today not only professional bloggers but many online businesses, online magazines, and internet marketing firms are using it to run and expand their business on the web.
Top WordPress SEO Plugins
We all know that SEO is a vast field, and it requires lots of knowledge to master it. But if you are serious about blogging, business or about your portfolio then you will do your level best to improve your brand presence and authorship. And one of the best ways to enhance your brand presence and authority is, obviously SEO, as it helps to drive more organic traffic, customers, and leads.
So to assist you with on-page optimization here, I am listing few of the best WordPress SEO plugins for 2018. They all are incredibly functional with options like force rewrite rule, automatic content optimization, social media integration and many other.
1. SEOPressor

SEOPressor is all in one and indeed the most powerful WordPress SEO plugin ever built. It has the power to manage all your pages, posts, custom post formats or in simple terms your complete website.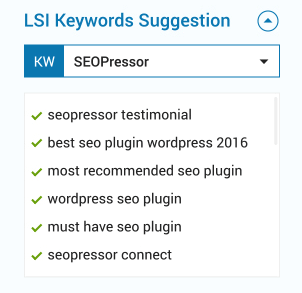 It has inbuilt keyword research tool which allows you to find long tail keywords. You can also use its drag and drop functionality to insert the keyword into your content with one click. This feature helps to save 15 to 20 minutes per post basis which you usually waste while performing keyword research on other expensive tools and services.
It also has powerful post and page analysis algorithm which calculates the SEO stat of your content. Then it gives you a rating on 100 bases. In this analysis, it checks you H1, H2, H3 tags.
Then it checks for both outbound and internal linking, It even checks your images and whether it has alternate and title tag or not. It even offers you the functionality to automate the task of adding alternative text by assigning the title hook in its setting page.
SEOPressor also comes with a powerful internal linking feature which allows you to assign any particular link with one specific word or phrase. Then whenever you publish the post, those words will be hyperlinked automatically.
This plugin also helps to make your site more social friendly by adding a Facebook open graph and Twitter metadata tags. It has inbuilt support for rich snippet which means now you can write an extensive review, and they will be made schema.org compatible automatically.
Overall I can say that SEOPressor is truly the best WordPress SEO Optimization plugin I have ever used.
2. The SEO Framework
It's a relatively new search engine optimization plugin and can be considered as the best staunch opponent of Yoast plugin. Unlike its competitors, its interface is not bloated with advertisements and news feed. Furthermore, it's not a server resource hungry extension and so can smoothly run on shared hosting without giving any bumps to your site performance.
It is an entirely free plugin and is licensed under GPL 2.0. But it does offer few essential features as paid add-ons. You can purchase these add-ons individually on the developer's site. Once you have the bought them, you need to first download them locally on your system, and then you have to install it on your website just like your other plugins.
What I really like about this plugin is it's mighty yet straightforward control panel. You get just one single configuration page, and every single setting related to your website's SEO can be configured directly from here. From automatic meta tag generation to sitemap to social media metadata.
Additionally, it supports woocommerce, custom post types, and bbpress. Wait, that not all. You further get feed anti-scrapper feature, full control over canonical tags, post per post basis SEO control, Google's Knowledge Graph integration and a dozen more.
3. All In One Schema.org Rich Snippets
This plugin has been developed by Brainstorm Force and has more than 60,000 active installs. It is one of the most popular review plugins and is actively maintained by its developers.
Rich snippets are one of the best ways to improve the CTR and conversion rate. They help webmasters to show reviews on specific product or service on their website. On the other hand, it helps search engines to generate the precise information about that product and display that information on search result pages.
There are various types of rich snippets, and few of the most commonly used are:
Reviews
Events
Recipe
Video
Product
People.
You can also read the official documentation for more details. According to the official documents, there are 597 types and 875 properties.
Now if you are planning to integrate any rich snippet in your website manually then you will seriously have a hard time doing so. Why mainly because it's a bit technical task and you will have to do this for each and every post manually.
But if you want to save your time then you can use this free plugin. Using it, you can choose from 8 different types of rich snippets and then can add them to your site by just filling up the required details. This way you will also be able to show star ratings on search pages.
4. Interlinks Manager
For any website, internal linking is just as important as building quality backlinks to its posts and homepage. Internal linking helps to improve user interaction with the site as it allows them to quickly navigate through different pages on your site which are based on similarly connected topics.
You can quickly add hyperlinks to any internal page through wordpress post editor. But if your website has more than 100's of posts, reviews and dozens of pages, then manually editing each page to connect your previous posts internally is a tough task. Don't believe me, see the image yourself.
Well, here comes Interlinks Manager for rescue. It has super easy to use and to the point interface which allows you to assign the keyword, the target URL and DONE. Yes, that's it. Now, this little plugin will scan each and every single post and page on your website for that keyword, and wherever it will find it, it will automatically add the hyperlink.
Its a set and forget plugin. You can keep on creating new content and just before you will publish the hit button, the appropriate links will be added automatically to the backend.
It also comes with a user-friendly and straightforward link suggestion feature which automatically suggest you the appropriate link for the targeted keyword. Furthermore, it uses a sophisticated algorithm to calculate the internal link juice and even give you the option to enable link tracking.
In case you love data sheets, you can even import the report generated in .csv format for further analysis. Overall, if you want to improve your internal link structure, this is the only plugin you will ever need.
5. SEO by Squirrly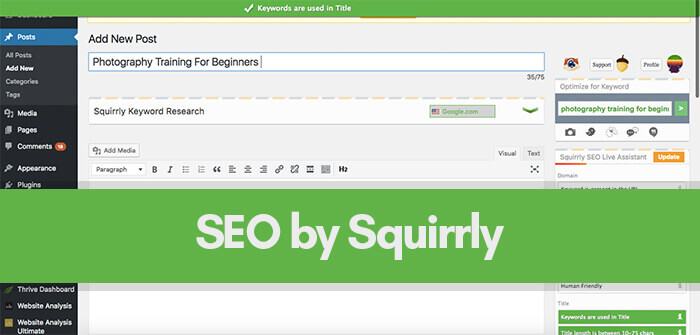 It can be considered as a more user-friendly and enhanced version of Yoast SEO plugin. It is available for free on official plugin repository, but after installation, you will realize that it has limited features unless you have a premium plan.
The subscription starts at $19.99 per month and gives you the freedom to install and use it on seven different websites. But then you are limited to 100 keyword research, 100 SEO page analysis and 100-page analysis by analytics. This might sound a bit of limitation to most of the users, but then you also have various other plans to which you can upgrade.
Comming to the features, Squirrly provides you with a powerful keyword research tool which helps you to find easy and high volume keywords from within wordpress post editor. It also helps you to write SEO friendly content by providing you essential insights on your content's readability, keyword density, links. It also gives you the ability to find latest tweets, news, images, and videos related to your topic from within your post editor. And the best part is that you can add those tweets, news or pictures to your content with just one click.
Furthermore, it comes with a powerful "Headline Suggestions" feature which is quite useful as it helps you to write better "Human" optimized titles. Overall it's a great a great extension only if you have a premium plan.
6. Rank Hijack – Off Page SEO Tool
If you are new to SEO and want to create high quality, high page authority backlinks to your websites then you must check out Rank Hijack. It's a web-based application which is designed to help you find Parasite SEO. For those
It's a web-based application which aims to help you find Parasite SEO. For those who don't know what parasite SEO are, they are basically high domain authority websites which allow you to create your own articles and publish them on their platform with dofollow and sometimes nofollow backlinks.
Remember that this is not an on-page SEO plugin for wordpress. Instead, it's an off-page SEO tool which helps to increase trust value, citation flow, page authority and domain authority of your website.
Furthermore, the platforms which this tool finds for you are niche relevant. This means you are bundling up backlinks from trustworthy sites and those sites are directly related to your niche.
I know you must have been spending 100's of dollars on PBN and guests posts. But just try this tool, find the best parasite available on the internet related to your website topic and publish your article. That's all. You have full control over the links, anchor text and even on the content. So if by any chance you feel that you have done something wrong, you can instantly correct it.
7. SEO Cleaner
SE0 Clean is not your typical SEO plugin which helps in writing and optimizing your posts and pages. Instead, it contributes to optimizing your overall website's performance by cleaning up the markup.
This simple and user-friendly plugin comes with dozens of options to help you get rid of not so useful meta tags. Many wordpress users don't know that wordpress by default creates DNS prefetch for external domains like Google web fonts, analytics and few more. It also generated post short links and hardcoded styles for comments. Furthermore to worsen the situation it loads additional scripts and styles to detect device types and to load emojis.
All these activities lead to not so SEO friendly source code. But by using this plugin, you can get rid of short links, RSS feed links, emojis, hardcoded styles and HTML comments with just a few clicks. Furthermore, its advanced settings allow you to remove unused meta tags, scripts, styles, HTTP headers.
8. SEO Friendly Images Pro

It is an excellent wordpress plugin for those who always forget to set alternative tags to their images. This image SEO plugin is designed to help you automatically add the title and alternative text to every image on your website. Yes, you read it right. It doesn't matter if your site has 1000 or 10,000 images. This awesome little buddy will make every picture SEO ready.
Furthermore, this add-on comes with another feature called lazy load. By lazy loading images, you can make your website 50% to 75% faster. Now you might be thinking how is that possible. Well, you might know that images contribute to 50 to 60 percent of webpage's total weight. Lazy load scripts help to load images only when they come inside the visible viewport.
So basically if you haven't scrolled down the page then the pictures below in your post won't get loaded. To provide lazy load functionality, this plugin comes with the open source unveil.js script.
9. Rank Reveal
Rank Reveal is a premium service which allows you to find keywords for which you are ranking and for which you can rank higher in future and which you never knew existed. It enables you to find long tail keywords with very low competition but high conversion.
I am listing this service in this post because of many requests in the comment section.
Rank reveal uses proprietary ranking graph data, and it is one of the largest collection of ranking data which regularly monitors search engines for website ranking. It then tells you about all the keywords for which you are ranking on SERP and also about its position. These keywords were once hidden from you because of webmaster tools and Google analytics.
But that's not the end. You can also keep your eyes on your competitors ranking and on all of their keywords. Then you can use them to optimize your website and can get better results.
Furthermore, rank revel provides you with local rank tracking supporting more than 175 countries. Overall RankReveal is very impressive service and can help you to get a better ranking if used correctly.
10. Ultimate Video SEO Plugin
If you are an owner of a video blog and want to improve its organic traffic, then it's a must to have plugin. This video SEO plugin automatically generates schema.org video object markup and helps to show video thumbnail on search result pages.
After installing this plugin, you don't need to perform any serious settings, and you can go straight to your posts and start creating new articles and tutorials. But now you will notice a new field below your post editor, and it will allow you to add video, it's details and thumbnail.
One of the most important features of this plugin is its ability to fetch video SEO details automatically from its respective video hosting service. Furthermore, it even generated video sitemap which helps Google and other search engines to index your new pages quickly and its content. Thus, this plugin helps to rank your video higher on SERP and contributes to driving extra organic traffic. Currently, it supports almost all the leading video hosting websites like Youtube, Vimeo, Dailymotion and much more.
Note: This plugin is no more available. Development of this plugin has been suspended because original author was busy on other projects.
11. All In One SEO Plugin
The world's most famous and one of the most advanced SEO plugin built for bloggers, online business, eCommerce, and magazines. With over 14 million plus Downloads and 3.8 as an average rating out of 5, it has to be on the top on my list.
All in one SEO is developed by Michael Torbert, who runs his business and also offer a professional version of this addon. The pro version has lots of other advanced features which you won't get in the free version, including premium support and installation.
Now let's talk little about its features. If you are one among that blogger who doesn't understand SEO and rarely cares to perform any on-page optimization, then you must use this plugin. As it can automatically generate meta description, meta keywords for your blog posts. It can automatically optimize your titles using best practices. Additionally, it can even add alternate tags to all your images within any of your posts. This is a crucial task as search bots can understand the graphics and they only need the text-based explanation.
Finally, it's the only SEO plugin which has extended support for eCommerce websites. And with its advanced algorithms, it can check your blog for any duplicate pages so as to prevent panda penalty. Overall it's a complete solution for a novice to advanced users.
12. WordPress SEO By Yoast Plugin
With over 4.5 million plus Downloads and with an average 4.7-star rating over 5, it's the second best plugin in its category. This plugin has been developed by SEO expert Joost de Valk. He is not just a simple SEO specialist but is also one among the best plugin developer. His invention is being used by some famous websites and online magazines like Mashable, the next web, and others.
WordPress SEO by Yoast plugin also includes an option to integrate the latest Facebook open graph and Twitter metadata so as to make your website more socially friendly. But its most important feature is the on page analysis which is powered by Linkdex.
It gives you custom boxes to place meta description and keyword tags. Then it automatically checks keyword density in your post, checks if the targeted phrase is present in the title, post URL. It even provides you hint where to place the keyword so as to get a better position. Finally, with the complete analysis of links ( both inbound and outbound ), it provides you with the rating based on 100%.
You can even use its inbuilt Flesch Reading Ease scale to check whether your post is easy to read or not. This is a unique feature which allows you to optimize your content for your readers. But that's not the end, Yoast gives you some advanced options to bring some technical enhancements.
For example, you can set nofollow and noindex tags to category, tags, author, archive and individual pages. You can even generate breadcrumbs and sitemaps. It even gives you an option to add rel canonical tags so as to prevent the duplicate content penalty. Furthermore, with an option to verify Google authorship and to optimize RSS feeds so as it prevents it from scrappers this is an ultimate WordPress SEO plugin.
13. WP Social SEO Booster

This plugin is all about making your website social friendly. We all know that Google has been considering social signals to rank web pages on SERP. And so we should take every step whether small or big to make our site more user and socially friendly. Few of the important things are adding social media sharing buttons, using Facebook open graph tag, adding Twitter metadata, using Google authorship and finally adding microdata.
And this plugin allows you to perform all this task quickly and with just a few clicks. Most importantly it easily integrates with great SEO plugins like Yoast, All in one and others. It allows you to add rich snippets to all your articles. WP Social automatically add the Facebook open graph, twitter meta, and HTML5 Boilerplate optimized .htaccess. It even adds the item prop tags ( which can be called as item property ) to all your post titles. This helps to make your post-Google plus friendly.
14. Google Sitemap
A powerful yet easy to use SEO plugin from bestwebsoft. It allows you to create quickly and submit your sitemaps to Google Webmaster and Bing Webmaster tool. It even generates the .gzip file which Google usually use and consider.
I love using this plugin just because of its simplicity and support for multiple post formats. I mean if you theme support custom styles for contents like video, gallery, quote, etc., then Google sitemap can even include them in your sitemap. This feature is usually missing in other plugins.
15. SEO Friendly Images
Now you can quickly boost your website visitors since now you can get loads of traffic from Google image search. Do you know that almost 10 to 15 percent searches made on Google are related to pictures and graphics?
Even for keywords like SEO and blogging, if you rank in the third or fourth position of image search, you will be able to drive hundreds of extra visitors to your website. ( Now this depends on how attractive is your graphics, snapshot or picture ).
Now the problem is that not all bloggers and content writers optimize the image. Remember that search bots can't feel nor they have any expression. They can just read the text, and in order to tell them that your post has an image, you have to provide them with alternate text and title tag. They both are important, but you can move a step forward by adding the description and the caption. Now it might be too tough for many of you, especially if your site has thousands of pictures. Well in such condition you can use this fantastic plugin.
SEO friendly images WordPress plugin automatically add the alternate and title tags to each every image on every individual post. It will use your post title as the keyword and then will implement it. The best part is that it even makes your article W3C/xHTML valid.
Which is the best SEO Plugin for WordPress
That's a hard question. In my 5 years of blogging and internet marketing career I have used various extensions to help me assist with on-page SEO and from my experience I can say SEOPressor is by far the most complete, all-in-one SEO tool.
It is a premium extension but offers you with all set of features you require to properly optimize your content and website. No other single extension, no matter free or premium can give you access to the set of features which SEOPressor along gives you. But then its my personal suggestion. If you don't have money on spend then I will suggest to use Yoast SEO.
So here comes the end of this list. They are my personal favorite, and I consider them as top WordPress SEO plugins. Tell us which one if your favorite or do you use any another plugin.