Clean blogging is super minimalist theme for WordPress users. It is designed in order to offer greater readability to the readers and website visitors. It is designed considering the needs of regular content marketers, personal blog owners, and writers.
While creating clean blogging WordPress theme complete focus was given to speed and performance. And that's the reason why it comes with its own customized icon set which helps to reduce the overall page size by 50 KB. We have handpicked 15 custom icons which are necessary to aid design elements of this template. We don't use font awesome or any other icon set. This small effort from our side will help to improve your website speed by almost 0.5seconds.
We would also like to thanks the creators and developers of underscores framework for providing such a powerful and customizable base theme to the WordPress community. And I'd like to mention that clean blogging is built on underscores framework thus following the best theme development standards in existence.
Important Features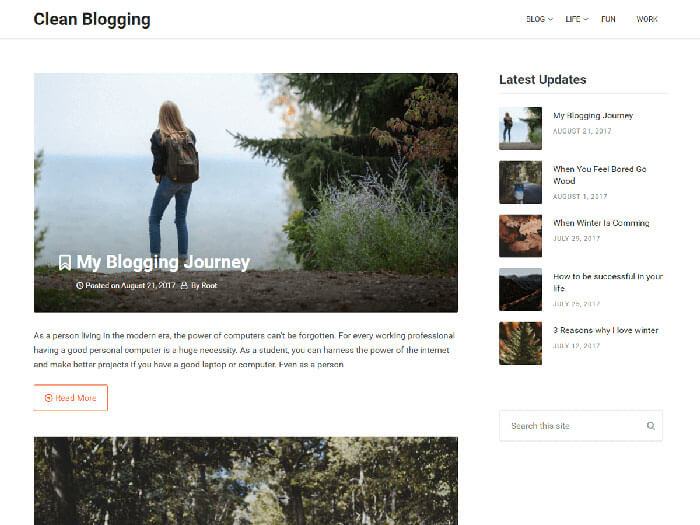 Clean blogging doesn't come with any fancy integrated features. Let me once again make it very clear to you that this theme is designed to offer greater credibility. So, if you want to use this template on your magazine, online news portal then I will suggest you reconsider your decision.
The only primary feature which comes with this minimalist template is the ability to change the colors of various different elements of a website. Additionally, it supports all other essential (inbuilt customization features) of WordPress.
Customized Recent Post Widget
One of the most important features of clean blogging is completely customized default recent post widget. If you are planning to so latest posts from your website in your sidebar area then with this theme you will get one additional option. This additional option is to add featured image along with the post title.
Homepage Design
On the homepage, you will find that this theme uses featured image as a background for the post title. So if you are switching to this template then I will recommend you to use Ajax thumbnail rebuild plugin to recreate featured images. We have registered two different featured image sizes. The first one if of 791X380 pixels and this image will be used on the front page of your site. The second one if od 100X100 and it will be used in the recent post widget.
On the single post pages, I have added a small CSS style to the first paragraph of the content. By default, the body font size is 16 pixels but the font size for the first paragraph is 20 pixels.
Furthermore, this template is hundred percent mobile responsive and supports mobile-optimized navigation. So as soon as the browser with reduces to 1023 pixels the navigation automatically repositions itself below the logo area. The JavaScript file used for this functionality weights just 1.1 kB.
Support
If you have any questions related to this template or if you want to know how to further customize the layout then you can do so by commenting below.
I if you are facing any problems while using this template then I will suggest you head over to the official support page. All you need to do is to create an account on WordPress support forum and ask your question over here.
I will try to respond to your queries within 48 hours.