Today I will help you to solve ERR_INTERNET_DISCONNECTED error message. This error basically means that your system ( chrome browser ) is unable to establish internet connection to the host. And as a result, you fail to surf the internet. If this problem occurs on any of your web browsers then most probably you won't be able to access the internet via any other browser.
Now the biggest issue with this error is that it cannot be solved by merely restarting the computer or by reinstalling the web browsers. There are some workarounds which need to be preformed if you are willing to address it.
How to fix err_internet_disconnected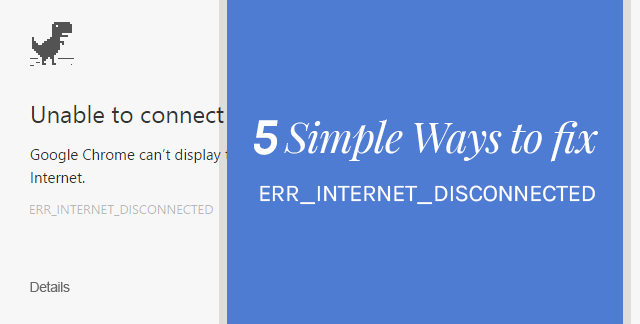 Now there are few important points you need to consider while trying to fix the err_internet_disconnected problem.
First, make sure that you are connected to your router or broadband connection properly. If you are using any wireless connectivity, then check the strength and internet access by connecting your other devices.
Second, make sure you don't have any faulty WAN cable in case you are using a broadband connection. This actually happened to me. I wasted almost 3 hours trying to figure out why I am not able to fix this problem until I discovered that my BSNL WAN cable was faulty and was not working.
Third and most important, make sure that you didn't installed any software which may have modified your Firewall policies.
In this guide, I will show you 5 different ways to fix err_internet_disconnected problem. You can use the methods shown here to solve this connectivity problem in your Android, Windows, Mac OS, iPhone and other devices.
1. Delete WLAN Profiles
WLAN profiles stand for wireless profiles, and they are created every time you join any new wireless network. In this first method, you will delete all your wireless profiles. This method should work for you especially if you use any WiFi network for network access.
Now please kindly follow the steps listed below:
Press Windows + X keys on your keyword.
Select Command Prompt ( Admin ) from the provided menu. (Alternate method: Click start button, search CMD, right click on CMD and choose "Run as Administrator").
Now type netsh wlan show profiles.
Delete every individual profile using the following command.
netsh wlan delete profile name="name of profile" (without quotes).
You can also see the image provided above. Just make sure to remove every single of them. Once done, you can restart your computer and then try to connect to your wireless network by reentering the password.
Most probably this method must have solved your problem. But in case if it didn't you can read our new method.
2. Flush DNS, restart your internet access device and change IP/TCP settings
When I say internet access device, I mean to point out your ADSL, DSL or your router. You need to restart them. Once you have done that, you need to open command prompt just like I shown in the first method and then you need to enter the commands listed below, one by one:
ipconfig /flushdns
ipconfig /renew
netsh int ip set dns
netsh winsock reset
That's all. Now restart your system and try to access your internet, most probably now you might be able to do that without any problem.
3. Change internet setting
In this section, I will show you how to fix error code err_internet_disconnected by restoring the default proxy server settings.
The proxy server allows you to hide your original IP address. It acts as the intermediary between you and the client-server from where you are trying to fetch the data. Now your system's default proxy server settings can be changed when any malware or virus is installed. It may also get changes if you use VPN software.
Please follow the steps provided below to restore the default settings.
Click the start button and search for Control Panel.
Now click on the Internet Options.
Navigate to the Connections tab.

Now you need to click on the LAN Settings.
Unchecked Proxy Server option. By doing so, you will stop any sort of malicious intermediary server.
Now finally restart your system and try to follow the steps again to see if the settings if now changed.
If everything is good, you can try to access the internet and most probably now you might be able to do so.

4. Disable your antivirus software
You might call me crazy, but sometimes when you enable internet security features of your antivirus software, it also enables their custom built firewall.
I have faced the same problem when I was using AVG internet security edition and I enabled their firewall feature. Soon after that, I wasn't able to access any website on my system. Then I called their customer support and they asked me to disable the firewall feature and restart the computer. And seriously after following that I was again able to access the internet.
The last and the final method is to clear all the data from your browser expect the site login details. Cookies from malicious websites may cause internet disconnection problems. So to fix it the only solution you have is to clear them from your system. To do so you need to follow the steps listed below:
Open Google Chrome.
Click on the 3 dots on the top – right-hand side of the browser.
Put your cursor on History and then from the fly-over menu click on History. ( Alternatively, you can try Ctrl + h ).
Now click on clear browser data and select from the beginning of time from the drop-down menu.
Except Password select every option available and click on clear browsing data button.
Now restart the browser, and hopefully, your internet connection would be working fine again.
Conclusion
Most of the time you see error code err_internet_disconnected mainly because of poor internet connectivity and your system or browser have no fault in that. But sometimes it's because of some malicious cookie, virus or also because of the antivirus firewall. I have discussed all possible methods to counter this problem and I hope they will help you to regain internet access.