As you are probably aware, eCommerce has been growing in popularity over the past few years. Recently, due to the world's current state, eCommerce businesses seem to be popping up everywhere, and ordinary people are becoming entrepreneurs. eCommerce is a great business idea because you can work virtually and be your own boss.
Where to start your business?
There are multiple ways to start your eCommerce business. Some options include selling on your own site using WordPress or an eCommerce platform like Shopify. You also have the choice of becoming an Amazon seller where you can utilize Amazon's site traffic. Amazon has the most product searches in the world, and that number continues to grow.
3 Steps to starting an eCommerce business
Find your Niche.
A niche is a narrowed down category that you build your business around. For example, cooking is a broad niche. In contrast, vegan cooking would be considered a narrow niche because it targets a specific audience type.
Places you can find a niche:
Pinterest is an incredible resource to use when searching for a niche. According to moteefe.com, "93% of users have used the platform to plan for, research, or make a purchase."
Say you were thinking about making your niche about finance. You would type in "ideas for personal finance" in the search section and see something similar to the image below.
As you can see, there are multiple different niche ideas you can come up with. The narrower your niche is, the more targeted your audience becomes.
People use Google Trends to find niches because it is a fantastic tool to see what they have been actively searching for currently and in the past. Here is an example of how to use Google Trends. First, you go to Google Trends, then enter any keyword ideas you might think of for a niche you are considering.
For this example, say you wanted to sell "hiking gear." Hiking would be a good keyword to use for a niche search, but because it is now winter, let's search winter hiking and see if it's a niche we might consider using.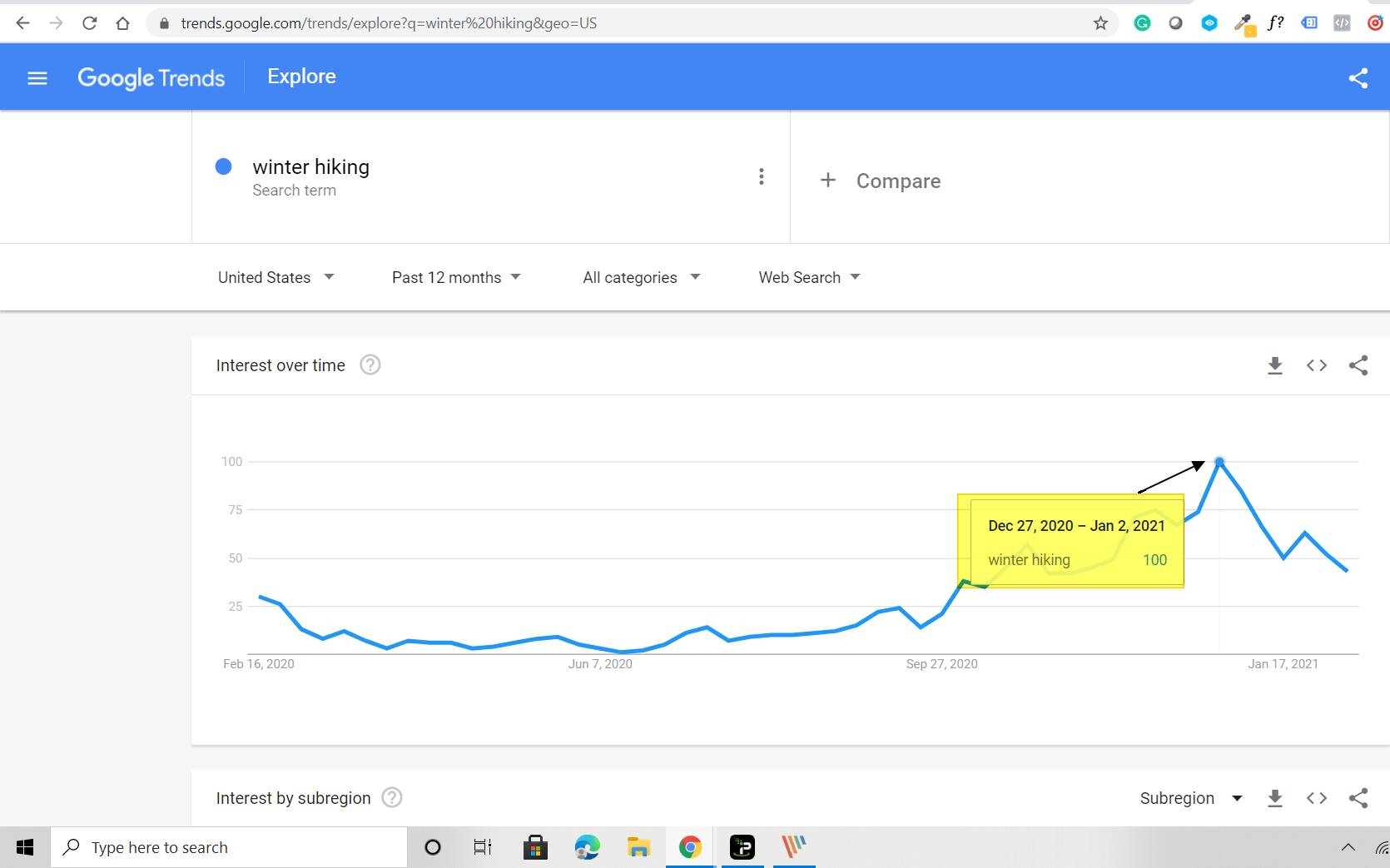 As you can see, there were a massive number of searches for "winter hiking" from Dec 27th to Jan 2nd. "Winter hiking" could be an excellent niche to target. Still, it is only a seasonal niche, so your sales are likely to be much lower during the off-season, even if you are selling internationally.
From the data above, you can see people are eager to get outside even though it is winter in the USA. It seems people want to get out in nature even more than usual because of the pandemic restrictions. Knowing this, you might be led to believe the same thing could occur for hiking come this spring and summer. You may have just found yourself a nice niche selling outdoor hiking gear or outdoor gear in general.
Amazon has over 50% of all traffic for product searches online. That's tons of products! Take advantage of their system, see what is actively being searched for, and check out the Amazon best sellers. Even if you do not plan to sell on Amazon, you can still use them as a research tool to find a niche. Also, Amazon is the world's largest online retailer so use them to see their global trends.
Choose products for selling.
Once you have selected your niche, it is time to find the right products to sell. When choosing products, they must fit the proper criteria if you are to become successful. The criteria are:
High demand- High demand products are the products people want and buy most.
Low competition- The lower the competition is for the products you sell, the more likely you will sell them. This is especially true if you include the correct criteria when selecting products.
Daily use products- Selecting products that are used by people daily is a terrific option if you can find everyday products that fit all the criteria we cover.
Your product costs are at least 25% from your target selling price- When selling anything, you must make sure you will be profitable after expenses. That is why we recommend giving yourself at least a 25% margin when selling products. You must consider all the costs you will incur when selling.
Your sales price- Consider selling products that range between $10 to $70. You are likely to sell more items when they are priced lower versus a high-ticket offering.
Your product's size, weight, and dimensions- This section is exceptionally vital to keep in mind when choosing products. Shipping costs widely vary depending on these elements. If you look for the best-selling items on Amazon, you can use analytical tools such as AMZScout that show extra information about products and make selecting products easier. You can also use AMZScout to calculate Amazon fees.
Find suppliers and manage shipping.


There is no short supply of manufacturers to source your products from. You have many options, such as Aliexpress and Alibaba. These sites have thousands of products manufactured by a variety of sellers in China. You may also have the chance to source products domestically, but costs may be much higher depending on where you live.
If you plan on selling through Amazon, you must consider their fees. You can use an FBA calculator to calculate the costs of your fees per product. When shipping, you must plan what business model you will use to get products to your customers. You can do dropshipping. Dropshipping is when you hold no inventory but fulfill orders with your supplier as they come in. Your supplier will then ship products to your customers directly for you.
However, when sourcing products overseas, you may not want to use the dropshipping method because of lengthy shipping times. Products can at times take well over a month to arrive from places like China. Slower shipping may deter customers from ordering from you, and you could receive negative reviews because of it.
Tips for a successful start
Whether you sell on your site or a different platform like Amazon, you will want to optimize your product's pages. When you optimize your pages with proper titles, descriptions, and easy navigation, you will increase your sales conversion rate.
When you first begin selling, your business will not be known by anyone. So how does an eCommerce seller get their products in front of the right buyers? Well, the answer is with advertising. You can run advertisements on many platforms, including but not limited to all social media platforms such as Facebook, Instagram, Twitter, LinkedIn, Pinterest, etc. You should also consider running Google ads, and if you are selling through Amazon, you will want to run Amazon ads.
Conclusion
Now that you know how to start an eCommerce store in 2021, are you excited to get started? Use that excitement to educate yourself as you progress on your selling journey. Follow the guidelines we laid out for you in this article, and you will start off on the right foot. We wish you the best of luck!