If you want to improve your website's speed, then the only perfect solution is to use a CDN service. Today in this post I am going to review one of the most popular CDN services that is  MaxCDN. Since 2009, it has been helping thousands of websites to improve their performance.
Established by Christopher Ueland, MaxCDN has managed to become a popular online brand. They offer integration support for many content management systems like WordPress, Joomla. They even support forum tools like power board, vBulletin, etc. I personally feel that they have created their service to serve all range of professionals and businesses.
Today many multinational brands like Nissan, Kodak and many other trusts MaxCDN to speed up their website. Along with them, thousands of bloggers and marketers also rely on this service.
Honest MaxCDN Review
When I started blogging, I was unaware of SEO and marketing. I didn't know how to choose a template and even how to install it. My blog used to take 4 to 5 seconds to load. Why, because I had a habit of loading my sidebars with banners and videos.
However today, I know that if my website takes even 1 more second to load, it can become a reason for low conversion and high bounce rate. Moreover, that is the reason why I am using MaxCDN to speed up my blog.
One interesting fact about this service is that it supports many open source projects. Bootstrap, js deliver are few of the examples.
Now For Those Who Don't Know What Is CDN?
CDN is the acronym of the content delivery network. It means a network of servers connected with each other through a high-speed data connection. This type of network can transfer data at highest possible speed to required user.
CDN also helps to improve the page load time. They even help to reduce server load and bandwidth usage. One important point, which you should note, is that they can serve only static files, like images, style sheets, etc. You also have options to store the cached files for one hour or for even one year.
In addition, you can purge or delete all cached content you wish to regenerate the new cache files.
Why Should You Choose MaxCDN?
MaxCDN is capable of serving your static files through their edge servers. Edge servers are specially modified to carry the extreme load without the decrease in performance.
They even support the push zones, which means you can store your static content on their high-speed edge servers. These zones are important if you run any online business and sell digital products. In that case, you can use this feature to deliver digital products at high speed.
Currently, maxcdn have 53 edge locations and 600+ peering partners across 90 countries. These countries also include Asian countries like India, Thailand, Indonesia, Japan and others.
Below I have shared a quick web page speed test. I have used a popular service called GtMetrix for this purpose. It helped me to find the total page requests, page size, loading time, and many other interesting facts about my blog.
You will be amazed to know that my website loads under 0.70 seconds on an average and that is really fast. Actually, my website gets 2,000 and plus daily visitors and even then MaxCDN has managed to push my blog's speed to its limit.
There are so many different reasons to choose MaxCDN. Below I am going to discuss almost each of the reason in detail. In addition, if you have any personal reason then please do not forget to share it with us through the comment section.
Easy Integration
MaxCDN offers integration support for many cms, e-commerce and forum platforms. It works with WordPress, Joomla, Drupal, Magento, open cart, and many other platforms. You can even use it with simple static, HTML-based websites.
What I like the most about their service is extensive, easy to understand documentation. It is available on their official website and it explains every step in detail.
When I first signed up with their Maxcdn, I was unaware of CName, API keys and so I preferred using their live support. I must say, their live support is simply awesome. You can ask them any question related to their service, integration and your account and they will answer you happily.
Powerful yet User-Friendly Control Panel
You get an ultimate control panel. From here, you can manage all your pull and push zones, SSL, caching, upgrading, invoices and many other.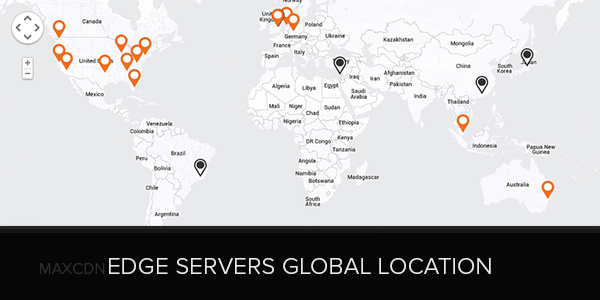 On the administration page, you get the glimpse of statistics and links to other control sections. And with the help of other sections, you can have details related to data usage and reports based on countries. You can also manage users, cache and can control advanced settings related to every push and pull zones.
I must say that they have done great considering their dashboard and controls which they offer to their clients.
Content & Account Security
MaxCDN edge security system helps to create custom tokens. This feature gives you control on your content visibility. You can also limit the user's visibility by defining the custom IP addresses. These settings protect your digital products from unauthorized downloads or views.
So you get complete control over content management, user visibility & privacy protection. With Maxcdn, you get NIST-certified encryption standards. It allows you to create the most secure environment suitable for e-commerce.
Powerful Caching
Just think that you have 20 visitors from the United States, India, and china. They all are from different states and are viewing your web pages at the same time. What do you think, what will be the condition of your server?
In the back end in order to serve these visitors, your server is doing a tough task. It is taking every visitors request, then analyzing it, retrieving data from the database and serving it.
However, if you enable the caching then loads on your server can be reduced. Now your server doesn't need to look into your database every time to serve and request. Instead, it will just serve the static content generated for any request. Then your website will be able to serve more concurrent users from different demography.
Maxcdn has 600 peering partners all across the globe. This means it saves all your cache files to these 600 networks. And whenever any request is made, content is served from the nearest peer. Overall helping you to improve your page views, conversion rate, and user satisfaction.
Affordable
Maxcdn is not like other services that have a high price tag. Instead, they have very cost-efficient plans. Their plans start at just $9 per month and if you choose to use yearly package then you get 2 months extra.
With the starter plan, you get one TB of bandwidth but with a limit. With this plan, you can only create two pull zones. You can upgrade your account anytime using their powerful control panel. They also have plans for high volume websites that require 100 or more TB of monthly bandwidth.
My Personal Experience?
I have used many CDN services. I have used CDN.net, cloud flare and few other services. However, I was never satisfied with them. Then I switched to Maxcdn and I was amazed by the results. First, my readers started asking me how I made my blog so fast. Second, my page views increased. Third, my revenues improved.
And one more thing, I seriously love their customer support. I mean they are just so helpful. If you ever need any help on their service then just go and ask them. They will help you throughout the process.
So if you liked my review on MaxCDN, then please share your views in comment section.