SendPulse is a platform for Email Marketing which allows you to send SMTP Emails, SMS, web push notifications in bulk at the most affordable price. Founded by Constantin Rozenshtraus-Makarov this company was established back in 2015. According to the official statement, it has over 400,000 regular users.
SendPulse has made marketing easy. Business Owners, Entrepreneurs, Bloggers, Marketers, etc; use this email marketing service to increase consumer awareness of their products, expand their businesses or to connect with their customers. Overall this tool will help you maintain a constant quality communication with your customers or clients.
SendPulse Review
What really makes this email marketing platform unique is its free plan. With the sendpulse free plan, you can send 15000 emails to 2,500 subscribers free of cost every month by creating a one single simple email campaign. That means you are getting access to a bulk email service free of cost for which other companies and services charges "extra".
What's make the deal even more interesting is access to the web push notification feature. You can connect your website with this platform to send web push notifications by creating Push campaigns. Furthermore, you also even create SMS and Viber campaigns by paying a nominal service charge as listed in the pricing plans.
Another fantastic feature of this platform is Email Personalization. This feature allows users to insert personal client's information in every email message with the help of Artificial Intelligence. You can easily create new campaigns and then can upload your subscriber's list within seconds. To help you better understand the interface you are also provided with video tutorials every time you take a new step or try to use any new feature.
Few of the important features of SendPulse are:
Simple and straightforward registration.
Very affordable pricing when compared to other competitors.
Access to 4 add-on features even with the free account.
Integrated A/B testing.
Detailed statistics related to your campaigns.
Quickly send transactional emails via SMTP.
Simple yet extremely extensible API.
Support for Web Push Notification.
You can manage your account and campaigns from Android app.
Outstanding 24/7 customer support.
If you are looking for detailed review, then please scroll down.
Benefits and Features of SendPulse
I, personally found this service very user-friendly. Their interface is simple and quite self-explationary. I tried it to send few emails to my subscribers about my latest blogs, write-ups, articles, and web development tutorials and the setup process was quite straightforward. Overall, I can say with confidence it has made marketing an easy process for me.
To start using this service, you first have to register yourself. It took me just a minute to register as I linked it to my Google account.
Easy Registration
To start using this service, you have to register on their website. The setup process is divided into two steps.
In the first step you can either fill in all the details manually, or you can integrate your Facebook or Google account. In the second step, you will need to confirm your account with phone verification. This process helps to prevent the spammers/bot registration.
Once everything is done and verified which usually takes less than 1 minute, you will be taken directly to your dashboard from where you can manage your campaigns, subscribers and your account.
Free Add Ons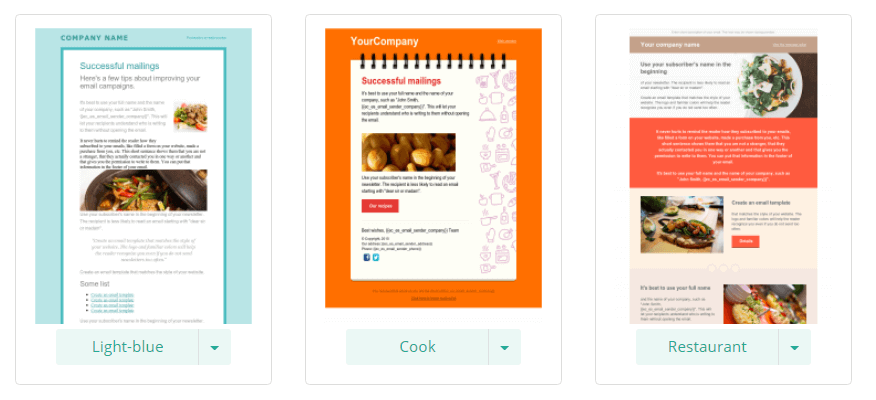 After you register, you will get 15,000 emails which you can send to 2,500 subscribers every month free of cost. You will also get free email templates and easy-to-use editor. There are dozens of free templates which are divided into six different categories.
You can create attractive templates for your email messages with the help of drag and drop email editor. Furthermore, you can choose from the basic structure to the elements of the email. In short, easy editing and customizing with full control over design, content, and branding.
Even when you are in the free account, you get access to push service, 12000 free SMTP email delivery, A/B testing and subscription forms and outstanding customer support.
A/B testing
Make your emails attractive and efficient by choosing from several versions available for subject and body of your emails.
You can send several versions of your message to your subscribers, and then according to the number of recipients opening each version, one is selected as the winner which will be the most effective among all.
Detailed Stats
Every campaign is analyzed, and a report showing its stats will be provided. The stats show that how many people clicked on the link, Open rate, Click rate, etc. This feature gives you insight analysis about how subscribers are responding to your campaign.
API Integration
You can integrate the services provided by SendPulse on your personal websites, CMS or CRM system. Web hooks are also available on request. A client can even use the distribution service capabilities with their personal projects.
Free and Easy Web Push Service
You can add web push service on your website by integrating both of them. It is free and easy to integrate. This service sends instant notifications to your subscriber's device to inform your clients about new developments which increase the consumer awareness about your products.
If you want to add custom branding and want to get access to the more advanced feature, then you can upgrade to the professional plan. The professional plan starts at $59.85 per month and gives you access to unlimited subscribers, custom branding, and endless push.
What's really interesting is that if you use their push service, then you will get $5 credited to your account. The balance will be credited every month if you are able to get at-least one new subscriber within the one-month interval.
Mobile App
You can download the SendPulse app to use this service on your smartphone or tablet conveniently. If you are out on the run or you do not have access to your computer, this app will keep you connected to your campaigns.
All in One Platform for Marketing
Several marketing services are provided on one platform like email marketing, SMS marketing, Web push notifications, Viber marketing, etc. Thus, you can reach your customers through every means possible. In the technology era, we have so many ways to communicate like SMS, Email, Messaging Apps, etc. For marketing, all these should be utilized.
SendPulse Pricing
You can upgrade your plan from free plan to monthly subscription which costs $9.85 only for email marketing. The amount of the subscription can vary depending upon the number of subscribers. For 2500 subscribers, you have to pay 9.85 dollars in which you can send unlimited emails. You can even increase the number of subscribers according to your need. You can choose from several plans like Pay as you go plan or VIP plan.
One of the biggest advantages of upgrading is, it will help you to get rid of the "powered by sendpulse" footer branding. With a premium account, you get the ability to add your own footer branding. It's something of great importance if you are an established brand.
24/7 Support
You can benefit from the customer support service through phone, online chat or by filling the feedback form. The support phone number is provided on the website. The online chat is a quick way to speak to the customer care executives, and they provide instant remedies to all the issues.
No Spams Allowed
Users who are suspected of sending spam messages through this service are instantly blocked from the account, and the access is denied to them forever. The subscription can also be confiscated. Thus, they have zero tolerance policy for spammers. Though this is useful for the users and subscribers both but spammers are deeply affected by this feature.
Conclusion
I have tried and tested this website, and I could not find any more Cons of this service. I have used many sites for email marketing, but most of them end up making me confused about how to work on them. On the other hand, SendPulse is self-explanatory on every step. I was easily navigated from one step to another. Many people cannot afford expensive professional marketing teams for themselves, but this platform has made this process relatively cheap.
Overall I would definitely recommend you to use this service. You don't need to purchase the professional plan, just register for the free trial and experience it yourself.