A great website needs quality web pages so that they can attract viewers and gather a huge number of followers. Any online brand and reputation building depends simply on SEO.
WordPress is a Search Engine Friendly CMS which comprises of the right plugin and themes inclusion in order to grab real link juice from Google. In the case of Themes, they differ in many aspects, like in the case of armature designers they do not care about SEO generally. But according to the experts, a website should use only SEO optimised themes.
Great WordPress SEO Themes for 2016
With a deep research for WordPress themes, we have collected and enlisted top 10 WordPress themes which are perfectly SEO optimised and can help you rank your website without many efforts. Along with the SEO aspects, these themes are good as have less weight and quickly loading capabilities.
Schema – SEO theme for wordpress by mythemeshop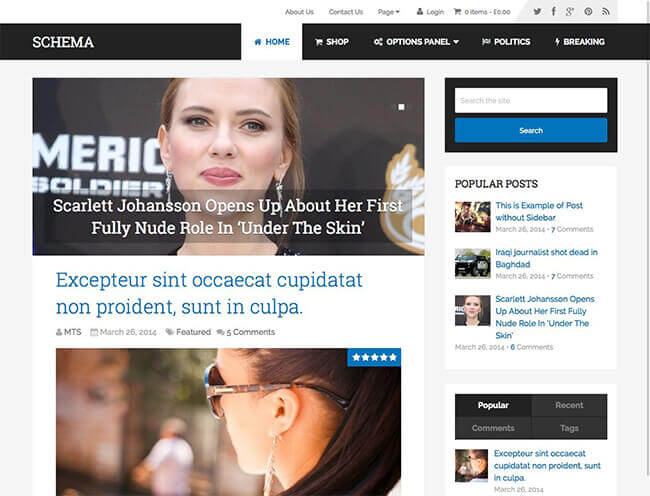 Schema is one of the most widely used WordPress themes. It is claimed to be the best SEO optimized theme and fastest loading theme as well. It is the outstanding quick theme and can fill your screen within seconds. The most of the required operations can be done with just a single click. It is loaded with SEO support along with tons of necessary features in a single creative package.
Everyone knows the importance of loading speed of websites and how it affects the ranking positions in Search Engine list. By purchasing the Schema theme you are not getting a single product, but tons of other included benefits like incredible support, downloadable contents and developer's guidance.
Soledad
It can be concluded as proficient, modern, visually cohesive, cutting edge and well integrated, technologically articulate perfectly coded, flexible.
Light weighted streamlined and highly responsive WordPress theme which is most suitable for the Magazine websites. It is also voted as best SEO WordPress theme for 2016 and have a quick support system, faster loading, and reliable features.
Another best feature of this theme is customizability and this feature makes the WordPress website very attractive.
SociallyViral
SociallyViral is one of the best themes with justified pricing ad fits both for SEO and AdSense bills. SociallyViral is designed to have faster speed and engaging graphics to attract more viewers. The advanced options allow viewers to share your website with their social media circles. This thing helps to increase the popularity and brand value of your website along with the rankings of the search engines.
The theme comes with Mega menu options with drop down menus that enhances the creativity of user along with their interest in your website. You will also get a review plugin with a theme which allows users to review your posts, this enhances faith of viewers on your website.
Avada
When talking about fully responsive and SEO optimized theme, Avada can be a perfect choice for you. It is one of the most demanded and popular website in the market. Currently, it has been installed on more than 185,000 websites on the internet and has the highest selling ratio on ThemeForest. It has a customer base of 260,000+ peoples and its popularity is increasing day by day.
The theme is highly customizable and built using SEO in mind. This lets you create anything you actually want. The Avada theme comes with tons of templates and multi-layouts along with thousands of other features.
Sahifa
Sahifa is considered to be most user-friendly and ultra-modern newspaper and magazine theme which is available in affordable and cheap price these days. Sahifa is the fully responsive theme and comes with a ton of customizable features which can turn your website into the eye-catching element for the viewers.
The theme is quite famous for its amazing and reliable support service, none of the themes have better support than this one. The theme consists of the slider as blog layouts and unique combinations of pages for websites. Along with all this, it comes with six portfolio styles and can create stunning websites.
Genesis
When you need a most simple but highly SEO friendly WordPress theme then Genesis can be a perfect choice. Genesis framework is an SEO friendly theme which offers classical blog layouts with simple visualisation and ultra-fast speed.
Genesis framework is a module that can run thousands of themes that runs only on this framework. This thins makes it ultra-customizable and flexible in design aspects.
Be Theme
Be theme is a professionally designed and engaging wordpress seo theme with modern and fully responsive feel. The theme comes with 220 professionally pre-designed templates for your ease and convenience.
Be theme is suitable for digital marketers and affiliate marketing websites because of the awesome collection of website demos for specific niches. The theme is perfect for the search engine point of view and is slender and light in weight.
SEO WP
Are you looking for WordPress theme with a high degree of flexibility? SEO WP can be a right choice for you. It is the best choice for the Digital Marketing Agencies and Social media expert websites. It provides ease of access and eye-catching designs for any websites.
Despite having too low price the plugin comes with many premium plugins like visual composer page builder. This plugin can help you building the cutting edge designs for any page with simple drag and drop technology.
Newsmag Pro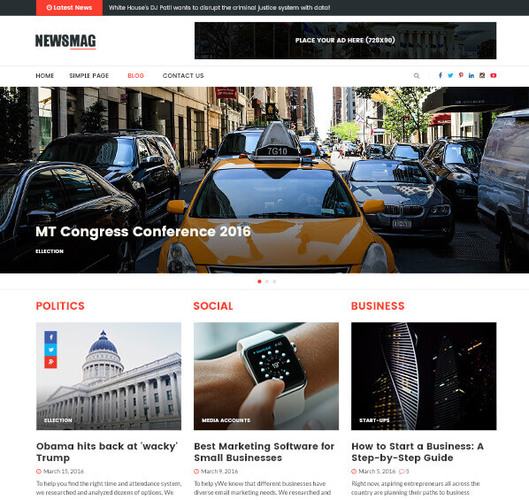 It is a simple engaging, modern and highly responsive WordPress theme specifically designed for magazine websites.
The theme is loaded with amazing features along with multiple customization options. It has endless opportunity to customize your website with sliders and carousels that can make your website more engaging and can lure more visitors.
Simple & Elegant
It is considered to be a visually stunning theme with a resourceful cutting edge and professional and unique design with extra features including flexibility, responsiveness, and faster loading.
Along with all these features, the theme is loaded with powerful visual composer plugin which makes it easier to design and customize specific pages of your website with ease.
Final Words:
These are the 10 best WordPress themes which are specifically designed for SEO purpose, but they are also provided with tons of feature that makes them as must have for all. All the above themes are well coded and highly customizable along with responsive designs.
There are tons of themes which come to market every day, but only some of them can sustain in this competitive market because of their worthiness and uniqueness. If you think there are also some other themes must be included in this list then you can convey you're thought to us via the comment section.