Do you want to start a new wordpress magazine website? Do you want to build a community of regular readers and followers?
Well, in order to accomplish such dreams you will need to have a great looking website design. And to help you, I have handpicked some of the hottest, most popular and definitely the best wordpress magazine themes.
WordPress magazine style themes are very popular, and there are many reasons for their popularity.
But today it has become a real tough task to find a perfect theme for your website. Today there are thousands of developers, and all of them claim that their wordpress themes are of highest quality. But trust me, most of these developers don't even care about speed optimization and website performance. So to help you, I have written this post.
Great WordPress Magazine Themes for 2016 – 2017
There are many reasons to choose magazine style wordpress theme for your very next online community portal, and I have listed some of them below:
You can use them to create an online magazine on just any imaginable topic like fashion, technology, web development, tutorials, politics, etc.
They have great design and ad optimized layout. Clean design helps to keep your visitors engaged with your content and ad optimized layouts helps you to monetize your website properly.
Most of them are optimized for speed and exceptional performance.
Usually, premium magazine themes follow semantic HTML5 markup and support schema markup. These markups are of paramount importance in today's marketing era. With the help of schema markup, you can show rating below your site link on search engine result pages which further contributes to improving your CTR.
They can be used to created Amazon affiliate websites by adding extra functionality with the help of plugins.
Overall, you have unlimited possibilities.
Almost every magazine style wordpress themes listed in this article follows the latest web design trend and semantic HTML5 markup. Most of these templates use either Twitter Bootstrap framework or foundation framework to power their structure and design. These two are the world's most popular front-end frameworks, and both of them follows mobile first design approach. This makes sure that your website is always mobile device friendly and is easy to navigate on small screens.
Handpicked Top 10 WordPress Magazine Themes for 2017
I know I have promised that this post will have 30+ themes, but I also know that most of you will not even scroll down the first 10 or 15 lists. So in this section, I am sharing with you, my 10 personal favorite magazine style themes.
I have handpicked them considering their speed which I have tested with tools.pingdom.com and gtmetrix.com. I have also considered the use of H ( heading ) tags. Furthermore, clean – mobile responsive design, SEO friendly content structure, review system, customization options are some other factors which I have considered while selecting them.
1. Extra magazine theme
It is a theme design by elegantthemes, and its design is powered by Divi page builder which comes for free along with it without any additional cost. It is one of the most extensible templates you might ever see.
It supports multiple homepage layout, powerful category, post/page builder and has support for WooCommerce. You also get 5 different header styles which can be further customized from the control panel. It even has an advanced mega menu which gives you options to shows latest posts, popular topics directly in your navigation.
For all those bloggers who don't just write, Extra offers inbuilt support for seven post formats. It means now you can publish videos, audio, gallery, quote and few others in style. Additionally, you get lots of custom widgets, robust review system, social media sharing buttons, 100% mobile responsive design and best among all, and everything can be customized directly from the wordpress customizer.
2. Bold News
Bold News is designed especially for online newspaper, magazines, technology review sites and comes with dozens of powerful customization features. It currently supports three custom header styles along with dozens of homepage layout which can be further modified using Bold Builder plugin. This plugin comes bundled with this theme and its proprietary which means that only premium users have access to it.
A lot of focus has been given to single article pages. There are multiple single post layouts which you can choose with one single click, and the best part is that all of them offers a quite unique style. For example, you can choose to show a full width featured image above the post title, or you can show the post title above featured image.
This news template has integrated support for review system and offers 100% valid schema markup. It means that now you can review any product, give it ratings and can even allow your readers to rate the product. You also get options to customize the colors of review blocks and to change their fonts.
For those peoples who love to handle theme customization manually, this remarkable newspaper theme offers you 100% compatibility support for child themes. This means now you can manually create your own functions.php file and can disable to add style sheets, JavaScript or other PHP functionalities.
3. SociallyViral
Are you planning to create a funny video site or a site related to celebrities? If so, then socially viral is the only theme you will need. Designed and developed by some of the best professionals at mythemeshop, this template looks simply awesome.
It is a flexible layout which means it will make your site ready for mobile devices. It has great typography, and you can even customize the fonts, their colors, and style from customization panel.
SociallyViral powers one of the world's most popular viral website and its name is Viral Nova. You will be amazed to know that today this site is generating more than $35 million every year and is worth $100 million.
This magazine style wordpress theme is optimized for social media, SEO and Google Adsense. It has integrated social share buttons and comes with valid structured markups. It has four positions to place Google Adsense adverts to as to help you generate revenue from incoming website traffic.
As if that was not enough, it has user-friendly control panel from where you can change colors, add footer widgets, customize the header and do many more settings related to your site. Go ahead and take a demo and explore its beautiful design.
4. GoodLife
This theme has been developed by an elite author of ThemeForest and has received five stars from almost 80 reviews. It comes with six different pre-defined demos which shows you how versatile its design can be and how easily you can further customize them.
Goodlife comes with five eye-catching single article pages. Each of them offers a completely unique look. It also has four custom video and gallery pages which look perfect on every screen. To give your website a unique look, this theme supports three custom header styles. And to help you make some profit from your site, it comes with smart advertisements placement blocks.
With the help of control panel, you can create unlimited sidebars and can customize typography, colors, and templates.
Goodlife also takes care of social media, speed, and SEO. It offers excellent typography options through which you can change fonts and font styles for headings and contents. It has clean and commented codes so that you can take customization to the next level by modifying the codes manually.
Some other important features include mega menu, review system, icons, shortcodes, viral quiz builder. It comes bundled with five premium plugin worth $117. Goodlife is 100% compatible with Jetpack plugin and utilizes its power to beautify your site. For those design geeks who love to use photoshop, you will get all Photoshop files including the complete website layout styles.
5. Newday
Comes complete with multiple page styles, SEO optimized, super cache, and unlimited colors and layouts. Modern and clean design, with a dynamic sidebar and WooCommerce compatible.
6. Wunderful
Wunderful is specially made WordPress theme for various magazine blog topics like fashion, travel, food & recipes, personal, and much more. It is highly customizable with user-friendly theme options. Very easy to setup without many bloated features. So, Wunderful is the right theme for your magazine blog.
7. Freyja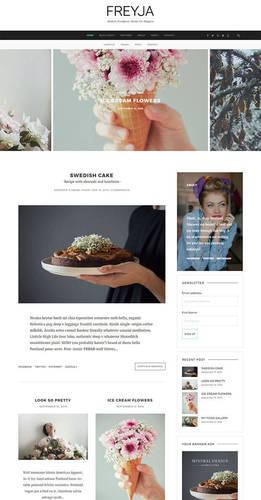 Freyja is a versatile WordPress theme designed for magazines. Contemporary and elegant, Freyja will inspire your readers through a perfectly managed landscape and vertical images. Ready for promo purposes, Freyja will help enhancing publications displaying adv sidebar box and featured content in the header slider. Check out the new layout for a single post and get amazed by the innovative features of Freyja!
8. Sylph
Built to be sweet & adaptive, Sylph features a simply gorgeous design on all of its seven paths that were carefully built, using information from over 800 blogs, including only the best and only the best features these have, straight into the theme. Paths are more than simple demos. They are the representation of hard work & research, each path is crafted for ultimate usability, only including the most relevant features.
9. NewsFront: Editorial eCommerce Ready WordPress Theme
It is a next generation premium magazine theme built for online news and magazine portals. This template follows the design principals which is suitable for popular and heavy traffic sites. It follows Google page speed guidelines and so it offers improved website speed.
When I did the text on this site, it scored 99% on Google's page speed test and 92% in Yahoo's yslow test. Check the image below if you don't believe my words.
The news front theme comes with five entirely different skins. It is definitely one of the best wordpress magazine themes you can find on the internet for your website. You can further extend these skins using the control panel and front end page builder. You have complete freedom to add as many content sections as you like to homepage. Currently, there are more than 60+ elements present in its front end page builder.
Developers of this fantastic template knew the requirements of cool magazine sites. And that's why they added 100% support for woo commerce. Woocommerce will enable you to sell goodies and other product on your site just like Amazon and Flipkart.
To offer your visitors easy navigation, news front comes with five different pagination system. Furthermore, it supports the mega menu and comes bundled with the visual composer page builder.
10. Cool
It is one among the most beautiful wordpress magazine themes out there. Developed by mythemeshop and has been designed intelligently to reduce your website's bounce rate. This template offers widget ready homepage which means that you uniquely create your site. You can select a particular category and show a specific number of posts from it along with post thumbnail. Furthermore, you can put these widgets either on the right side or left side. You can also add featured post section which is perfect to show most popular or most profitable posts to your readers.
Furthermore, cool has inbuilt support for reviews and ratings. It also supports mega menu and translation. It has a user-friendly control panel. You can use it to change settings related to typography, colors, header area, footer area, posts, and pages.
Now here ends my selection of top 10 magazine style themes. From below you will find the rest of other 20+ themes.
News Setter
A modern and gorgeous News WordPress theme powered by ThemeFue, best suited for Technology Review magazines and blogs. It includes all the features and functionalities you need to showcase your projects and work.
News Setter is highly customizable and very easy to use. It has four pre-made color styles. You can switch to any color variation at the click of the button. It supports multiple Header design concepts (full-width header and narrow). Preloaded with HTML 5 Animation Slider which integrates perfectly into the theme and can with controlled with an options panel. It also has automatic image resizing. This wp design is fully responsive and retina ready and comes with built in page layouts, one click content install, ad-friendly structure and much more.
With this premium wordpress magazine theme, you can create not only create online newspapers, but you can even create personal blogging sites. You can even start your own viral website and share funny pictures and videos.
Best – Beautiful Magazine WordPress Theme
As the name suggests, it is truly one of the most powerful themes designed for online news and magazine sites. It has a perfect layout which looks great on every device. Being integrated with one of the most advanced styling control panels, it gives you control to design every category and section individually.
It is not only mobile responsive and fast, but it is also optimized for Google Adsense advertisements. It even has integrated Google web font selection which allows you to change font family of your post title, post content area, footers, and widgets with search and select functionality.
Best doesn't only offer great look but is also ultra SEO friendly WordPress magazine theme. It has integrated support for rich snippets and has valid HTML codes which make it easy for search engines to read your content. This theme also supports custom typography, social media buttons, ajax search and parallax scrolling. Overall it is a complete theme and has all features required by any site.
10. The Chatter
A magazine WordPress theme with a stylish and visually appealing design that could be used to build any online magazine or blog. This premium theme from ThemeFuse has a modern, clean and minimal style ensuring to display your content in an attractive manner.
It comes with an array of impressive features like a powerful visual page builder, a lot of ready to use shortcodes, a backup up the module, over 700 fonts, multiple headers, footers and sliders, unlimited color palette options, Woo-Commerce ready, demo content install, extensive documentation and much more.
The Chatter is one of the 16 WP websites that are included in the core theme which is powerful and features rich multipurpose WordPress theme that comes with lots of purposes built child themes for various types of industries. In fact, if you get The Chatter you will get access to all the other demos for free with more to come soon also free of charge.
Sahifa
It is one among the most downloaded and highest rated premium wordpress magazine themes on ThemeForest marketplace. Sahifa was one of the first multipurpose theme developed back in 2012, and since then there have been hundreds of updates. The latest version 5 comes with almost 200 improvements in which major updates are integrated page builder and support for custom content blocks.
It is e-commerce ready theme. You just need to install the woo-commerce plugin and then you will be ready to start your international shopping portal.
Some of the other important features of Sahifa theme are as follow:
Off canvas mobile navigation.
Page view and rating system.
Ajax Live search which also supports search functionality for woo commerce products.
35 custom widgets along with custom grid slider on the homepage.
40+ shortcodes and ten custom built page layouts to give your site a unique look.
Integrated support for 650+ Google web fonts which means full control over typography.
I think the best way to explore all its features is only possible when you give it a try. Go ahead and take a live preview of this fantastic wp template. Trust me you won't regret.
Codilight
Codilight is a magazine style theme developed by famethemes. It has very sophisticated homepage design, but yet you can easily control its control panel.
Because this wp design is built on Bootstrap framework, it offers responsive website design which fits perfectly on almost every device. Furthermore, it has a mobile menu which offers easy navigation to your visitors who browse your site through their smartphones or tablets. It has also been optimized both for speed and search engines by using appropriate techniques like the proper implementation of structured markups, H tags, etc.
Codilight comes with inbuilt review system. This means now you can easily review any product or service and can even ask your visitors or customers to rate the product.
Apemag
It is a premium Adsense optimized magazine theme which you can use for your personal blogging website or create a successful online magazine. It comes with w3c validated codes which not help to improve your website performance but is also crucial considering the SEO. Apemag even supports bbpress and BuddyPress plugins thus giving you the power to create an engaged community and giving your website better authority.
With this premium WordPress magazine theme, you get some cool features like custom CSS & typography, unlimited sidebars, inbuilt review system, post formats, page templates and custom widgets.
It has lots of hot spots where you can place advertisements to get improved click through rate. Furthermore, it supports the woo-commerce which is an essential plugin for creating online shops.
Inspirin
This theme is built to offer excellent readability experience. It allows bloggers and writers to make their articles stand-up in the crowd. What I like about inspirin is its typography. They look bold and clear and have perfect contrast which feels comfortable to eyes.
It also comes with many different types of page templates, like the full-width layout, archive, contact pages and much more. It even has lots of custom social media and content widgets which will help you to make your website more attractive. Furthermore, to make your blogging experience better, it comes with a small set of shortcodes which everyone needs on a regular basis, like buttons, horizontal bars, columns, etc.
Geeky
It is a minimal magazine style theme for bloggers and writers. Geeky comes with a very simple layout which makes it very comfortable to read and explore. It has exclusive support for bbpress which will help you to make your website more helpful by offering them with the support forum.
Geeky support 2,3,4 column layouts and has fluid design support for galleries and videos. It also has search engine optimized structure and many widget areas to place your advertisements.
On its header, you will find a search field, but you can remove it through its control panel. You get an optional feature to make the logo font bigger or smaller. Finally, to make your website more unique, this theme supports all post format types.
Pinpress
As the name suggest this, it follows the Pinterest, design principal. It has a unique feature that allows visitors to create their custom pinboards and can save your website's articles for later reading.
Ajax powered mega menu gives you control to show latest posts with their thumbnail from different categories. You can also customize the navigation color, hover effects and can add icons.
Pinpress takes social networking to the next level. It has inbuilt social share buttons and Facebook comment system. Furthermore, to your more control it even supports Disqus commenting.
It has 100% configurable review system which can be used to review any product or service. Pinpress is also optimized for structured data markup, and so it also helps you in improving your overall on-page SEO effort.
One of its most important features is live CSS editing. It means that you don't need to edit your theme manually by changing the code. Instead, you can visit your website and can edit the titles, fonts, background colors and many different elements by just clicking on them.
Some of its other cool features include live search, related posts, pop-up modals, endless sidebar, post builder and flexible advertisements.
Gazeti – Premium WordPress Magazine Theme
It's a professional and extremely flexible theme built for bloggers and magazine websites. It comes with power packed features which are good enough to amaze both you and your readers.
Gazeti has got very complex structure, but assigning content blocks to the different area is very easy. On its homepage, you get content slider along with tabbed widget. Then below the slider, you can create multiple category based sections. In each chapter, content from one category is retrieved and displayed, and thus you get the option to show all your latest articles without any trouble.
Now at the footer section, you have three column widget area, and above it, you get a masonry content slider. Other than these features it comes with four homepage styles which empower you to make your website unique.
Newszine Multipurpose Magazine Theme
Newszine is a premium newspaper style theme. It has a perfect design for any online newspaper or magazine website. It's intuitive administration panel is powered by vafpress. It also has a homepage builder through which you can easily control different content blocks and their placement. Like this, you can generate 100% unique style which would reflect your website's style.
Now let's discuss its features. Newszine is really easy to install and if you still face any problem, you can either troubleshoot using its documentation or can ask for support.
It's developed on twitter bootstrap framework, and thus, it enjoys 100% fluid style. It has Ajax powered live search and also supports woo-commerce.
Furthermore, you can customize the fonts, their style, colors, and weight. You can choose from 600 different fonts from Google web font directory. Finally, it has more than 12-page templates which will fit all your needs.
Tribune
Tribune is one another premium quality newspaper style theme from wpzoom. If you check out its homepage; then you will feel that you have visited Huffington post. What I want to say is that its design and layout is very similar to some traditional news websites.
It has got a straightforward and minimal design which can be easily customized with the help of its advanced control panel. You can upload your logo, favicon, and banner advertisements. You can even change typography of your site by choosing custom fonts for heading and posts from easy to use control panel. Tribune supports multiple layouts which allow you to switch quickly from incredibly complex structure to basic blog design.
ReadPress
It's one of the most advanced magazine theme ever built for WordPress. It's developed on world famous CSS framework that is twitter bootstrap. It has tons of options which your ability to customize your website freely.
Furthermore, it has a flexible design which makes your site easy to access even through small screen devices. It even has widget ready homepage which means you can modify the content and elements of your site as per your need.
Finally, with multiple headers and menu styles, you can give a unique look to your blog or online magazine.
Truemag
Truemag is extremely customizable magazine-style WordPress theme. It is mobile friendly and even supports bbpress along with bbforum. This means it's one solution for the complete community-based website.
But the most important feature of this template is its AdSense ready advertisement blocks. You get multiple blocks on the homepage and single post pages, and with their help, you can add various sizes of ads.
Considering its design options, you have the choice to switch between boxed or full-width layouts. You can also turn on or off the dark and light color based skins. You can also create unlimited color based designs and can choose custom web fonts for your post titles, and content area.
Additionally, you can create unlimited sidebars to create custom post pages. Now to help your sell stuff online, it has complete compatibility with the woo-commerce plugin.
Other features include Search engine friendly design, valid HTML and CSS codes, HiDPI ready graphics to make your website more beautiful.
Explicit A Powerful Magazine Theme
Explicit is an attractive and feature-loaded newspaper theme for WordPress, which I have ever seen. It has outstanding homepage design which seems to be so professional and engaging that your readers will just love your website.
It has been designed considering the need of magazine and review sites. You can also use it for any local or international newspaper website. It even has support for woo commerce and buddy-press, and so it can even be used for community-based blog or eCommerce site. Overall it's a multi purpose template crafted to keep your readers engaged.
It has Ajax powered mega navigation system which allows you to display the hottest post, trending post within the navigation panel. This does not only improves click through rate but also will improve your conversion rate.
It even has a touch screen sensitive slider that allows you to present you latest, hottest or most trending articles. Its slider is mobile responsive and has been optimized to load faster on mobile devices. It has also got an user-friendly options panel from where you can customize the colors, fonts, texts, logos, background texture and much more with just a click of the button.
Focus Premium News Theme
If you are looking for a perfect theme for online newspaper's and magazine websites, then focus is build for you. If you want to have a modern and mobile friendly website, then this theme will help you transform your primary site to all new professional looking website.
The design of the focus theme is inspired by popular online tech magazines like the Verge, the next web, and others.
It comes with six styles options for your categories, it looks great on small devices and has incredibly easy to use options panel. In has inbuilt social sharing module which let you add social buttons without any plugin.
Ubergrid
Ubergrid is a professionally designed, mobile responsive and SEO friendly magazine theme for WordPress users. It has a minimal design, and it loads pretty very fast. Designed for multipurpose use, you can easily customize it for personal blogging, business or magazine websites.
It has a flexible layout which makes means it will make your site compatible with smaller screens. It provides you a design builder and cross-browser compatibility which makes you site visible on all types of browsers.
Exquisite
It's a colorful and ultimate premium WordPress magazine theme which can also be used for newspaper websites. It has retina display ready icons and one of the most attractive menu style. It has mega menu something similar to Mashable's site.
But the best part is that you get 12 PSD files along with dedicated support forum access. Additionally, it's responsive in nature and provides both boxed and full-width design. Exquisite is optimized considering the best SEO practices and above all is very easy to customize with an easy to use options panel.
BulletPress
It's a professionally designed premium magazine theme. It has very pleasing style and helps to present your content is most stylish and clean manner.
It has a flexible structure, and so it can easily adapt to almost any screen size. Additionally, it's cross-browser compatible and so renders correctly on virtually any screen.
With bullet press, you get lots of great freebies like slider revolution plugin ( worth $15 ) and visual composer plugin ( worth $25 ). In this theme, you will also get review system and support for bbpress forums. You also get lots of page templates, beautiful gallery, custom widgets and access to Google web fonts directory. This feature allows you to select almost any custom web font for your title, heading or content area.
Now for better branding, you get 11 styles for footer area, 14 styles of the content area, custom widgets, and user-friendly theme options panel.
Made
Made is a responsive WordPress magazine theme and comes with dozens of powerful features. It's also compatible with BuddyPress and is built for the demands of big corporate level magazine websites.
One of the best thing about maid is its review system which comes with 4 rating types, five color schemes and has the option for user based rating. This means your visitors can give the rating to posts, products or services. And it will be displayed on Google result pages.
With made, you even get power to create unlimited mini niche based websites/pages which you can use as the landing page. This will for sure improve your conversion and will help you to create one product focused review page.
Now with 200 plus options, 80 plus shortcodes, 16 custom widget panels and 11 custom widgets you get complete freedom to enhance the look of your website as per your need. It even comes with a content slider and in total support eight different sets of sliding features.
For the extra boost to your website's look, it supports Jquery powered enhancements, 28 transparent backgrounds images, layered PSD files, 13-page templates and dozens of more features.
Made
Rush
Rush is one of the best premium WordPress magazine themes which I think is perfect to build a newspaper and professional blogging website.
If you love to keep your readers engaged on your site and want to offer them all your best contents on one single page but that in a and unique professional manner then this theme is for you.
Though rush design looks very advanced and complicated, I assure you that it comes with easy to handle options panel. With the help of its settings, you can change the backgrounds, can create unlimited color based skins and can easily choose your favorite Google web font.
Furthermore, it has a flexible design and has built-in support for reviews system. It comes with 20 custom widgets which also include social media, favorite posts, advertisements, image slider and many other. Finally with its unique homepage styling and amazing features you can use it for both magazine and newspaper sites.
So here's the end to this fantastic list of great WordPress magazine themes. Please leave your suggestions and, if possible, share this post with your friends.
Disclosure: This post contains few affiliate links which will make me few bucks to carry out my blogging career but only when you buy the product through those links.