Ledgers, calculators, and spreadsheets are no longer enough to keep track of your business's performance. You want to look beyond balance sheets and financial statements to gauge the health of your business.
Business intelligence tools can help you understand trends hiding in your data. You can use those insights to make reasonable predictions about product performance and market preference.
This article will take a look at 12 widely-used business intelligence tools. You'll learn about their main features, strengths, and weaknesses. Whether you're a marketing exec, sales manager, or HR professional, you'll find immense value in one or more of the following tools.
1. MicroStrategy
MicroStrategy is an enterprise-grade business intelligence tool that gives you access to high-speed, powerful, and business-focused HyperIntelligence and data analytics features. You can spot existing market and consumer trends, improve productivity, identify gaps in your business process or model, and spot new opportunities on the platform.
MicroStrategy can use 200 data sources. Those sources include Excel workbooks, XML files, cloud data repositories, and other enterprise data software.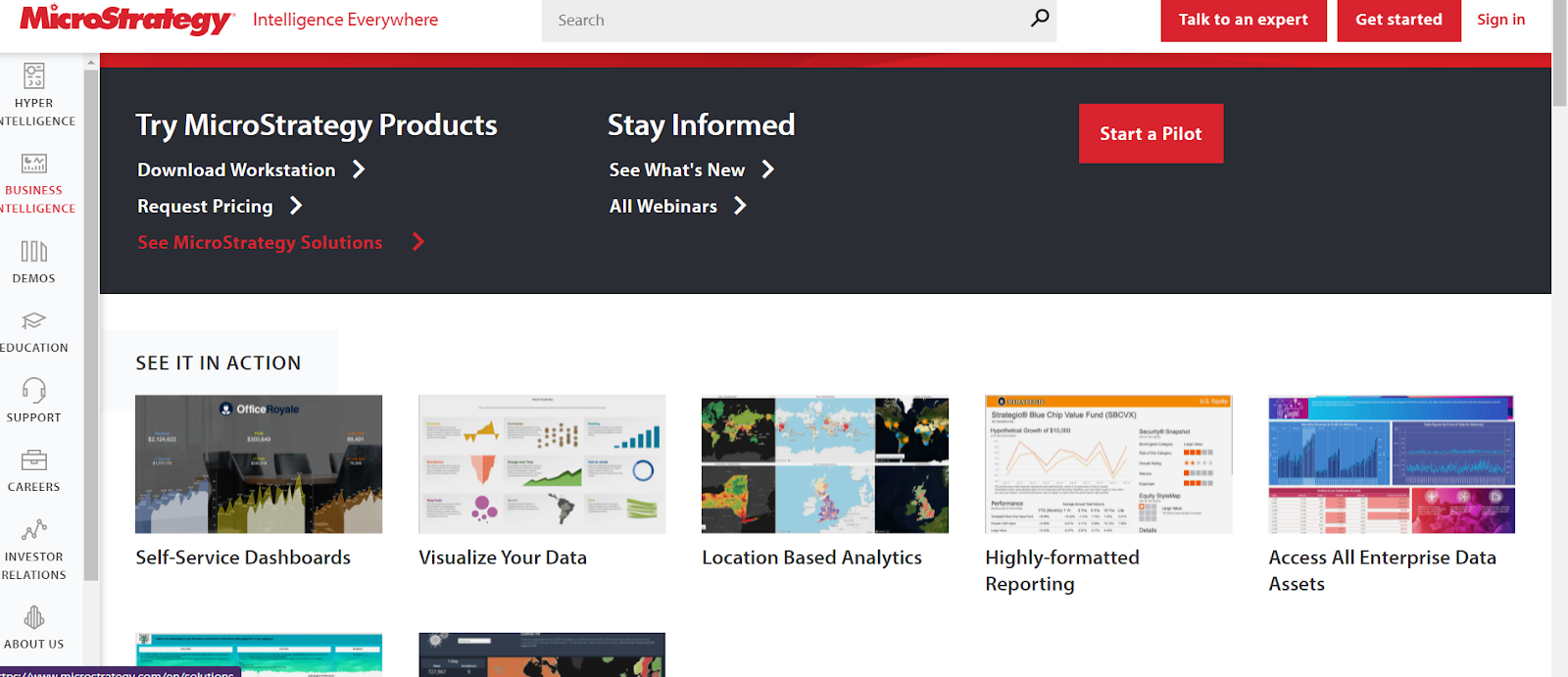 Source: Microstrategy
While the learning curve for MicroStrategy can be steep at first, most of the processes beyond the setup stage are pretty straightforward to understand. An account with MicroStrategy starts from $600 (one-time payment per user).
2. Clear Analytics
Clear Analytics is one of the most flexible BI tools for Microsoft Excel. It integrates directly with Excel, requires very little training, and allows you to create dashboards and queries in minutes. It also lets you gather information from different data sources and consolidate it into a single Excel file.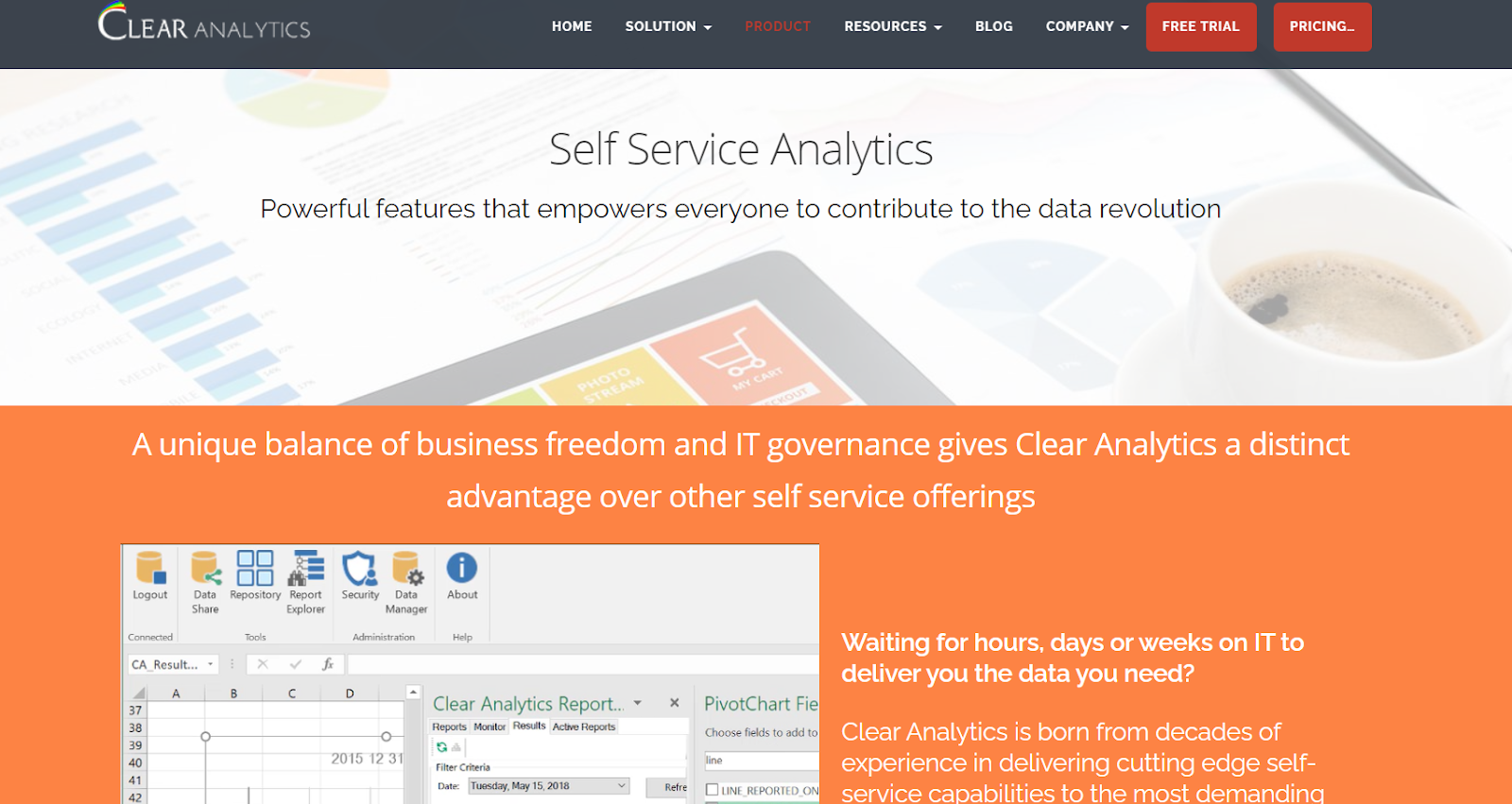 Source: ClearAnalytics
Like most of today's collaboration tools, Clear Analytics offers secure sharing between different departments and file version control. It also supports Microsoft Power BI to allow you to wrangle, model, and visualize your findings and publish datasets directly.
With Clear Analytics, you can also:
Manage permissions and on-premise accessibility
Take advantage of the dynamic query builder for direct access to data
Get access to a centralized storage repository for reports
Businesses of all kinds can use the tool. It's easy to use, which is great for organizations that rely on Excel for reporting and data visualization. Prices start at $89 per month for up to 8 users.
3. DOMO
DOMO is another great cloud-based tool for business intelligence. Like some of the other solutions on this list, DOMO gathers data from different sources, cleans it, and processes it for further analysis and insight gathering.
Source: DOMO
Using these insights, you can gain further knowledge on your business and drive coordinated marketing or sales efforts – all in real-time. Perfect for account executives or sales managers looking to fine tune their processes. The tool is also great for automated business workflows, which will come in handy as your business and customer base grows.
The key features of the platform include:
Data integration that allows users to use data from different sources, such as databases, social media, and CRMs
BI & Analytics for data analysis and visualization
Intelligent Apps to help users create custom apps to showcase their findings
Embedded Analytics for the safe and secure sharing of data outside your organization
Domo's client base includes big names such as Cisco, eBay, and ESPN. But even if you run a small business, Domo is still easy to implement and understand without much training. An account on the platform starts at around $175 per user, per month.
4. Zoho Analytics
Zoho Analytics is one of the most popular data analytics and visualization solutions. While it is an offshoot of the widely-used Zoho CRM platform, it can pull data from various sources, such as Google Data Studio, remote databases, or social media.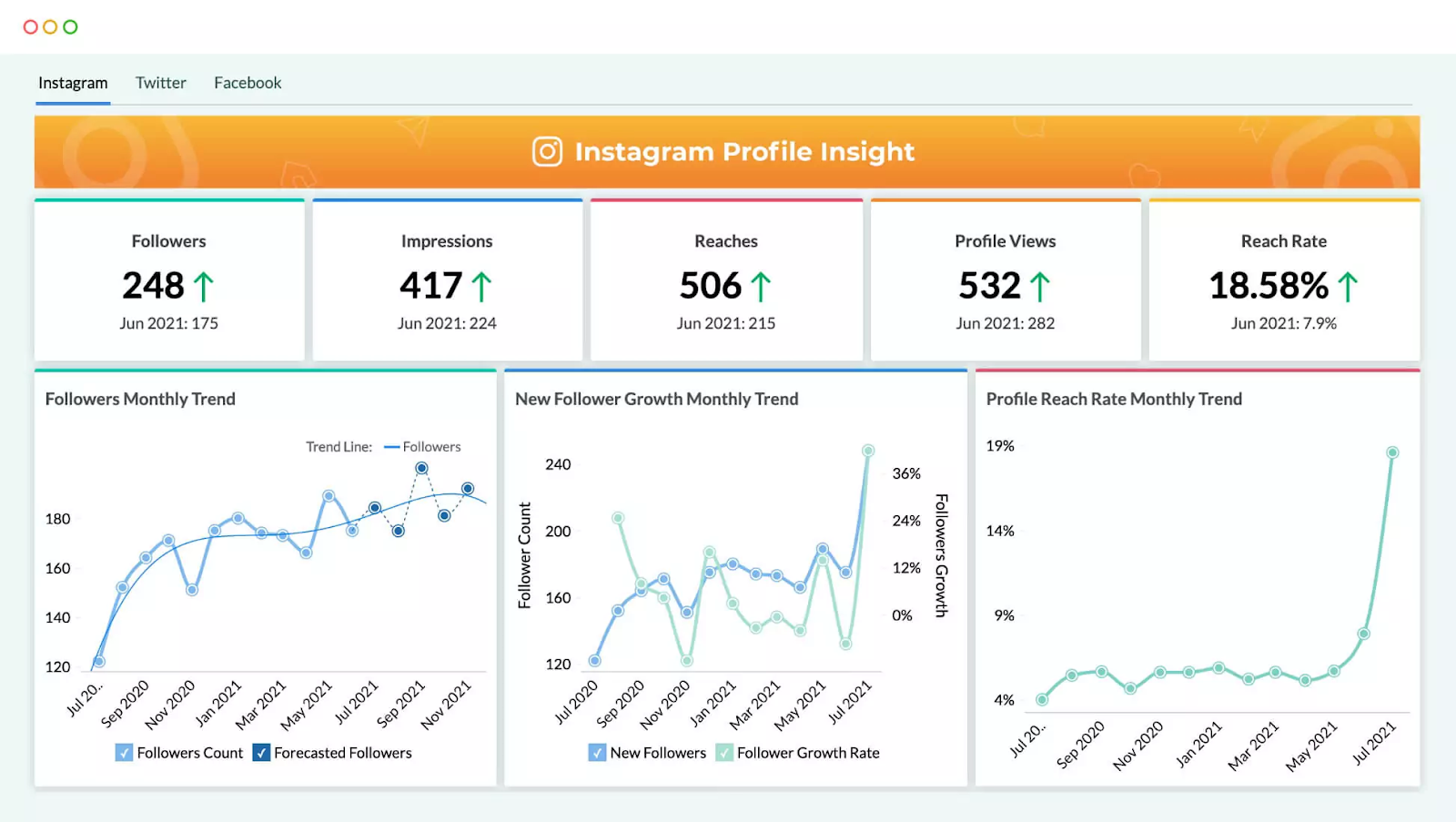 Source: Zoho
Zoho users say that the tool produces beautiful reports and dashboards that allow for easy drill-downs. Zoho BI is also easy to set up and implement, making it a popular choice among smaller businesses that need quick and painless access to insights.
However, some Zoho customers feel that the BI tool isn't very scalable and is designed primarily for SMEs. Charts take a few seconds to load, and the number of SQL tables that can be called upon each other is capped at 3. Nevertheless, Zoho CRM customers and SMEs looking for a BI tool will realize that Zoho BI has most of the features they need to create reliable reports.
Pricing for Zoho Analytics starts at $25/month (when billed annually).
5. IBM Cognos Analytics
While many of the other platforms we've discussed so far focus heavily on business intelligence, Cognos Analytics adds a bit of Artificial Intelligence (AI) flair to the mix. It is a business intelligence tool built from the ground up to support the entire analytics cycle and allow users to make reasonable assumptions about the future.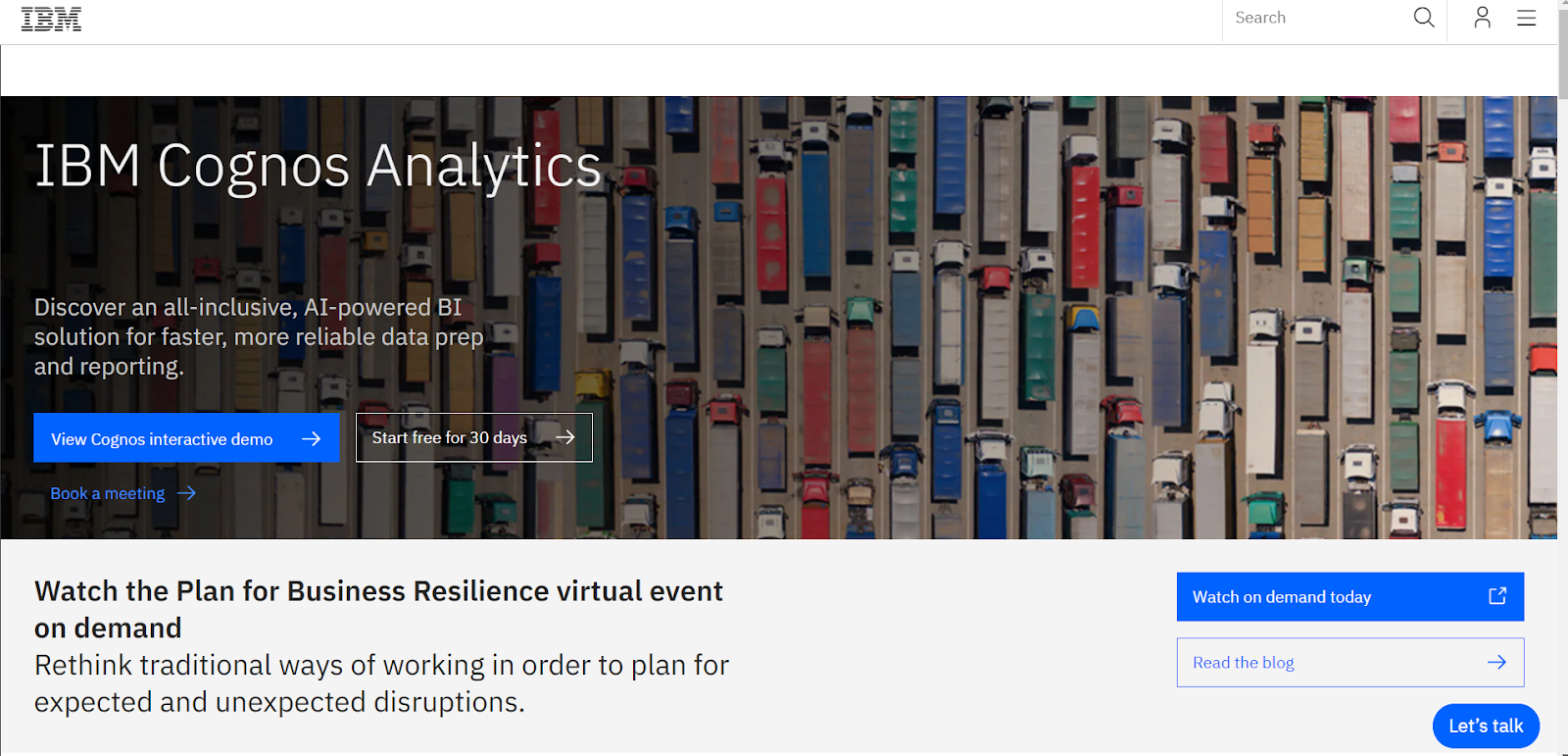 Source: IBM
Cognos is one of IBM's flagship products. It combines the reporting and analytics capabilities of the old Cognos with IBM's strengths in AI and predictive analysis. A typical Cognos implementation consists of the following web-based components:
Cognos Connection: As the web portal for Cognos BI, Cognos Connection allows users to schedule reports, create tasks, and search for reports and dashboards.
Query Studio: Query Studio can accommodate simple queries and diagram creation.
Report Studio: Report Studio is useful for building management reports, including charts, lists, and maps of varying complexity. The express authoring mode uses a simpler UX for non-technical users that can use dynamic data to create traditional financial reports.
Analysis Studio: The Analysis Studio allows users to analyze large data sources and dig deep into the causes of system events. It gives businesses the ability to identify trends and highlight deviations that aren't easily seen in other BI platforms.
Event Studio: Every system needs a notification tool that informs users about system events right away. You can set up Cognos BI Event Studio to recognize triggers and send emails or generate reports as soon as it detects system events.
Workspace: Workspace lets users take existing reports and incorporate them into interactive workspaces that can be shared with other users across the enterprise.
IBM Cognos Analytics is easily integrated with a wide range of external applications, such as Microsoft Office. It also boasts a text search algorithm powered by IBM's Watson. Prices for this tool start at $10/month.
6. Magento BI
Magento Business Intelligence is a cloud-based data analysis and management solution that lets you collate and manage all of your business data sources. You can create data models and develop charts and reports.
While Magento BI was created for Magento, any eCommerce business owner can use it.
Source: Magento
The tool is available at two different subscription tiers: " Essentials" and " Pro". The former costs around $100/month while the latter will set you back around $500.
The Pro tier offers support for things like live assistance and the ability to tap into third-party extensions (outside of the Magento ecosystem) for data leveraging.
7. ClicData
ClicData is known for its interactive dashboards. Under the hood of this business intelligence tool lies a sophisticated business intelligence platform.
The software takes data from over 250 sources, including Google, YouTube, HubSpot, and Excel. It uses smart connectors and an intelligent data warehouse to produce live dashboards.
Using ClicData, you can clean data, combine and merge it with other sources, and transform them into various formats. You can then use the transformed data into different visualizations and create entire dashboards by dragging and dropping elements to a workspace. ClicData can then send these reports through email, make them visible on a web portal, or transform them into a mobile-friendly format. This data can help you in your cold campaigns too. Pro tip: Use mail merge tools to scale your campaigns and get the most out of your data and email list.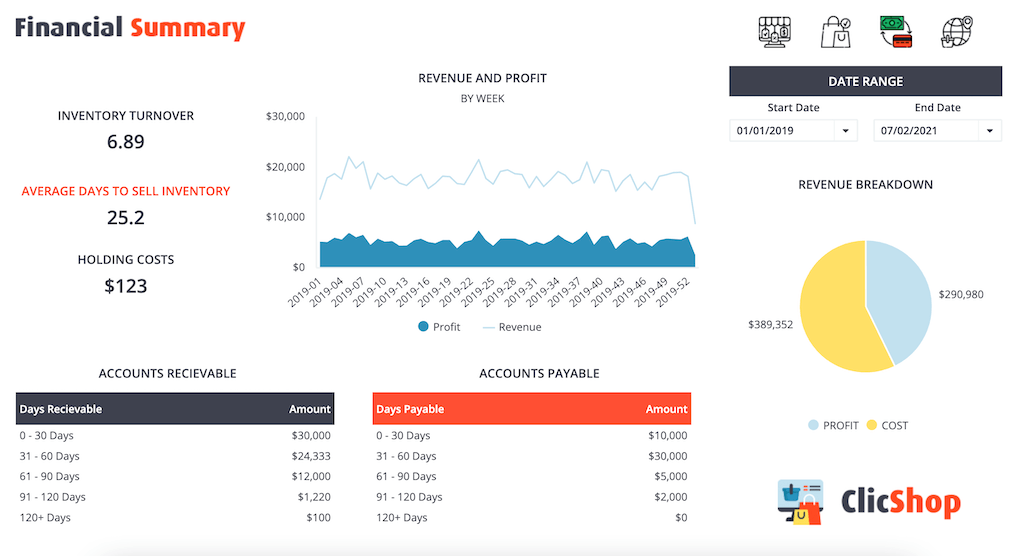 Source: ClicData
The platform also offers support for the most popular data sources such as QuickBooks and Google Analytics. An account with ClicData starts from $71/month on the Premium plan.
8. SAS Business Intelligence
SAS Business Intelligence has been around for more than half a century. It has transformed itself from a publisher of statistical software to a full-fledged business intelligence platform that offers data management and predictive analytics.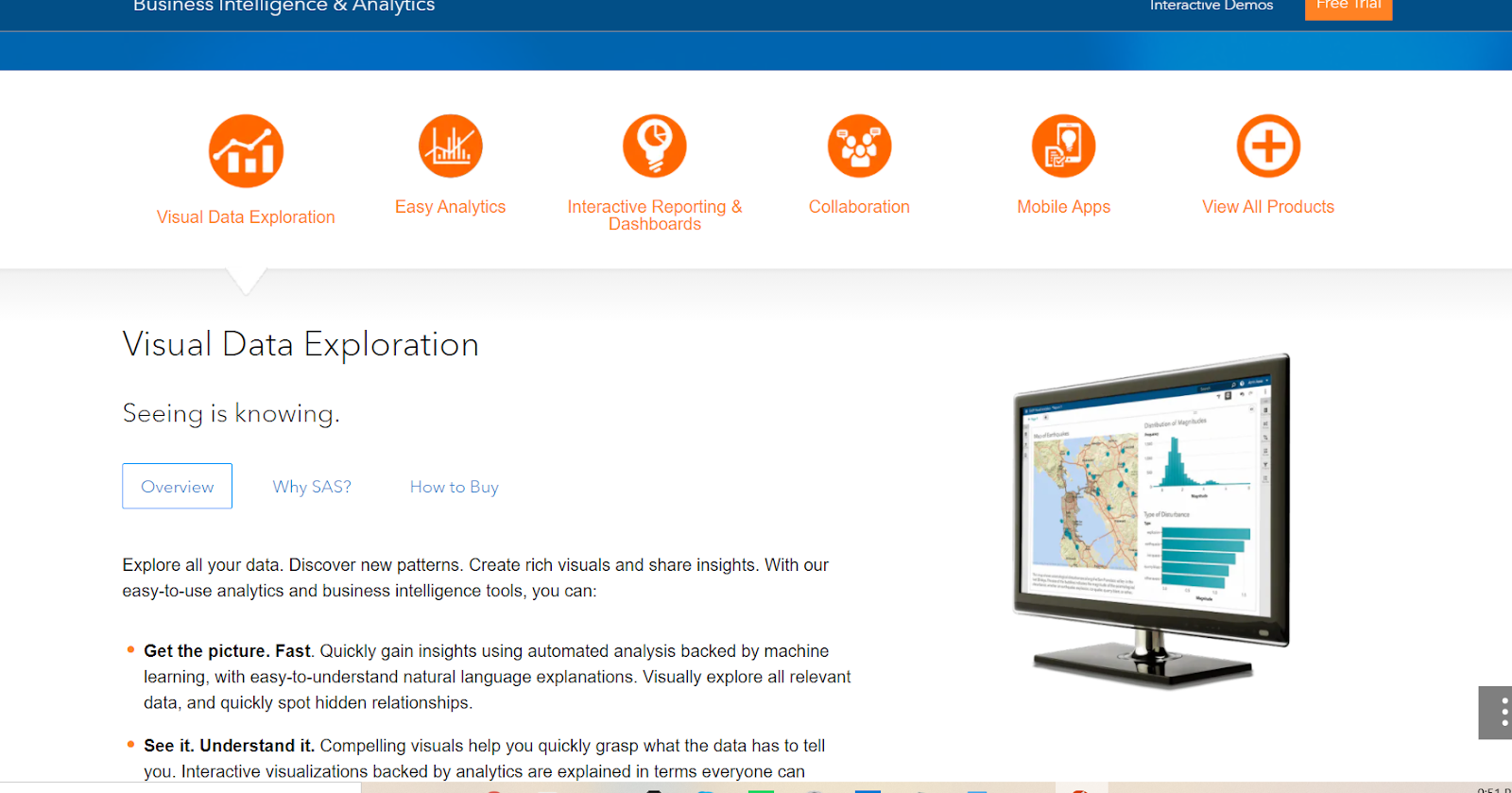 Source: SAS
You can explore data, create visualizations, and discover patterns that you would have otherwise missed out on using SAS. The tool uses machine learning to detect statistical anomalies and gives you insights using natural language. It also offers a wide range of integrations, making it one of the most versatile BI solutions available.
However, you will need extensive statistics and analytics experience to get the most out of the tool. If you manage to get past this requirement, SAS will give you all the tools you need to visualize your findings and translate them into a format that even non-technical users can understand.
SAS doesn't make their pricing information public. They, instead, encourage users to contact the company for a direct quote.
9. Sisense
Sisense offers more than just standard dashboards. While it offers a full-blown BI platform, most of its value comes in the form of embedded analytics, which are white-labeled, AI-powered dashboards infused into customer applications.
Source: Sisense
Sisense allows you to process huge, dispersed datasets to find the trends located within them. You can also combine data from different sources into a single consolidated database. You can then pick the data apart using the multiple filters and analytics tools contained therein.
Sisense can either be hosted in the cloud as a Software as a service (SaaS) application or deployed on-premise. You have the flexibility of different deployment approaches. Furthermore, the platform supports scorecards, data warehousing, report writing, and ETL functions for a more robust experience that can be shared across the entire organization.
Pricing for the Standard plan starts at $83 per user, per month.
10. Yellowfin BI
Hosted mostly on the cloud, Yellowfin BI is an automated tool that employs a start-to-finish approach as a business intelligence platform. It provides an AI-driven dashboard, allowing users a dynamic peek into numbers, reports, and general business trends.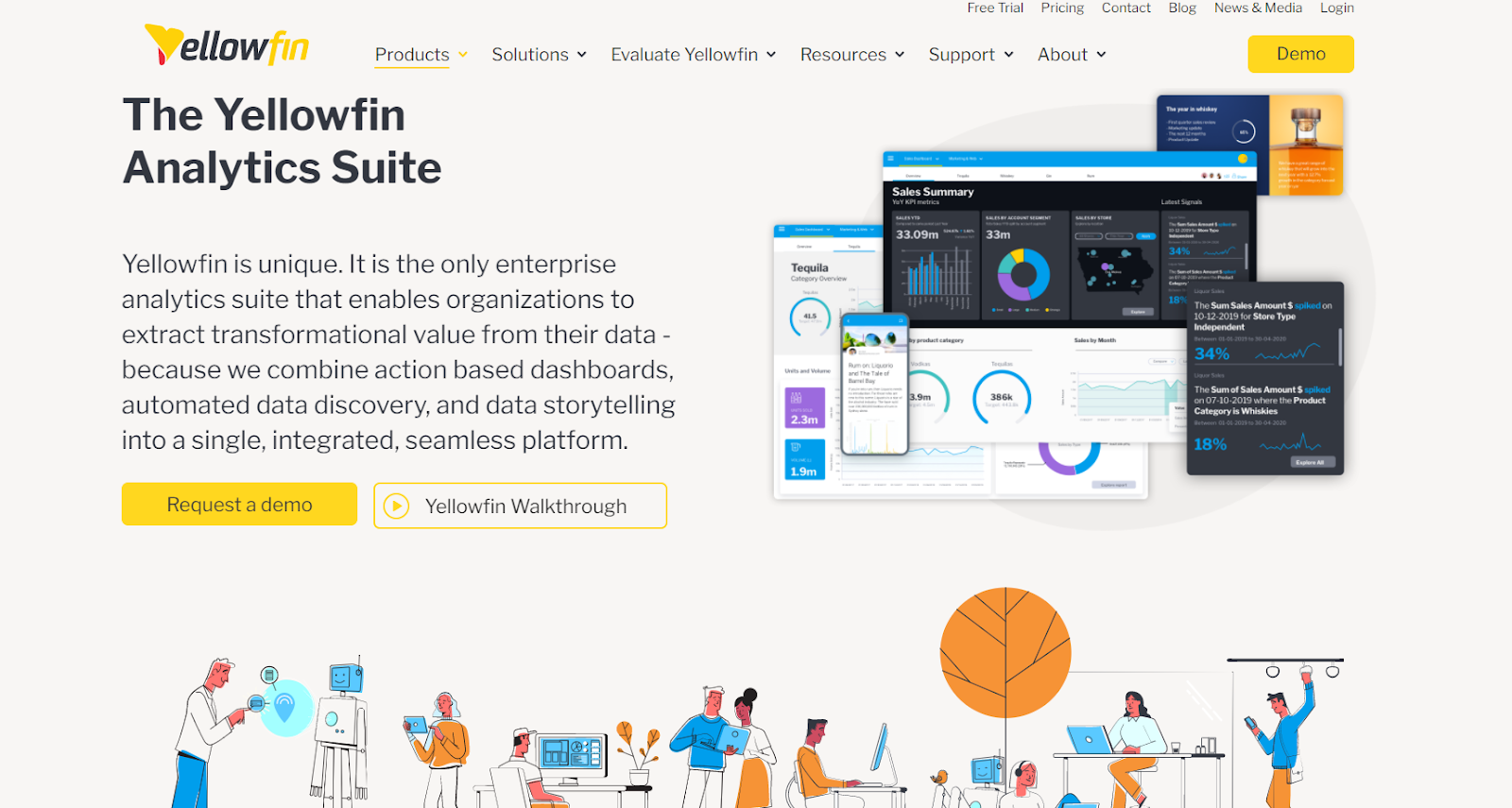 Source: Yellowfin
Through well-made visuals and support for collaboration features, Yellowfin allows you to glean much more insights from data.The collaboration extends to every stage, from reports to representations.
With Yellowfin, you only purchase features according to your organizational requirements at any given time. Its dashboard equips sales and marketing teams with real-time information and "drill-downs" for even more insight. The platform also prioritizes collaboration and sees immense value in the power of data-driven storytelling.
Scalability is also an important feature of Yellowfin. The platform allows you to keep your analytics environment secure and stable at all times while allowing teams of up to thousands of members to collaborate on the various data resources and dashboard items.
Pricing for this software starts at $600 per year.
11. QlikSense
QlikSense is an analytics and business reporting tool with which you can build interactive dashboards and create insightful data visualizations. Unlike online tools, information is stored locally and can be made available to offline users.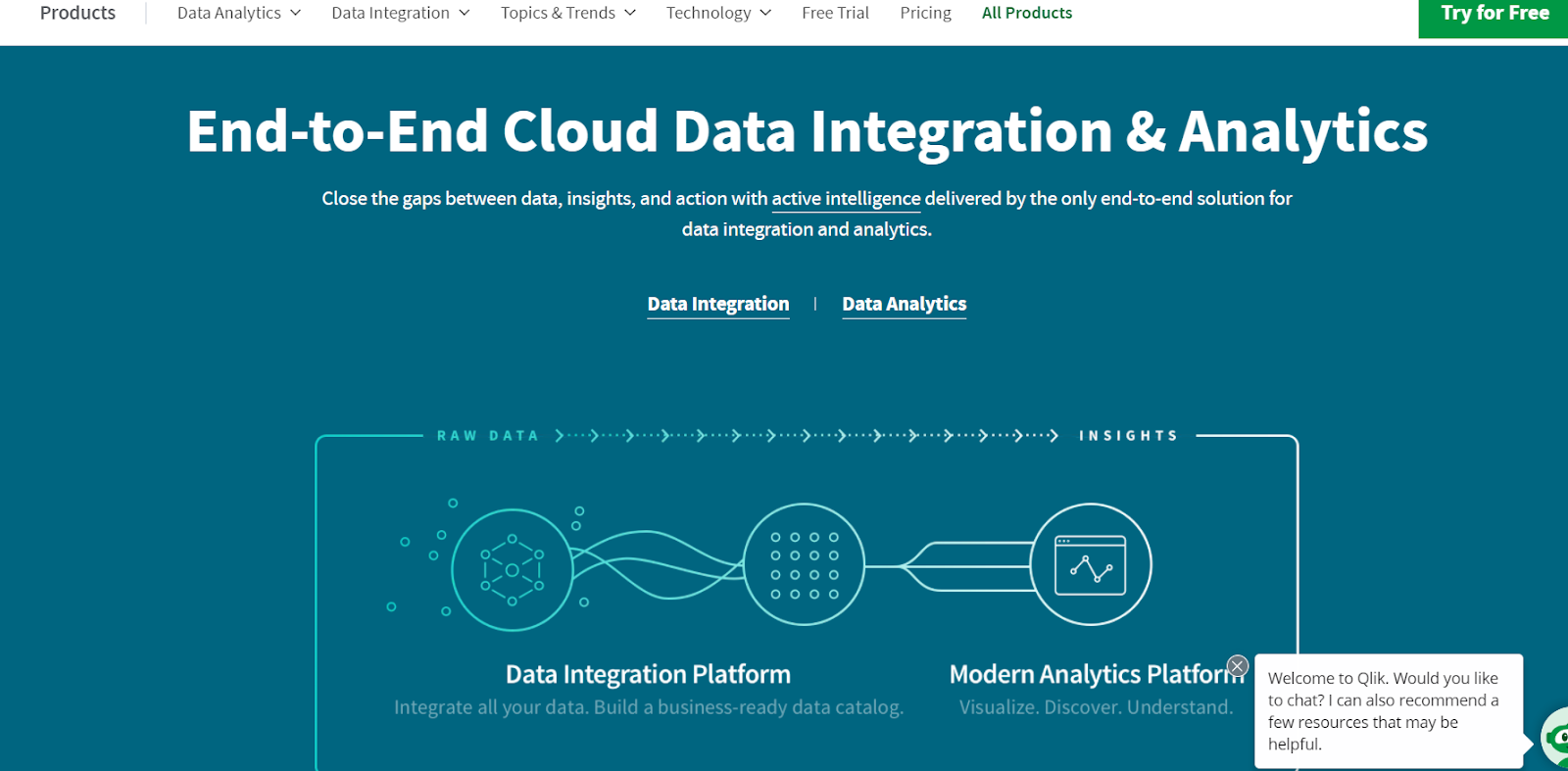 Source: Qlik
The tool incorporates features like:
Drag-and-drop functionality across the UI 
A smart search feature for reports, dashboards, and data sources
Support for exploration of multiple data sources on the platform
Collaborative features to share insights with rich, data-driven storytelling
More importantly, QlikSense supports a wide variety of use cases and accommodates users of varying skill levels. It is a self-service data visualization tool with a strong emphasis on accessibility and usability. As with many others on this list, you can try most QlikSense best-in-class features free for 30 days.
12. Datapine
Datapine allows businesses to connect various data sources, explore hidden nuances in the data, create visualizations around those trends, share those insights, and monitor incoming data in real-time. The solution is best suited for businesses seeking to empower employees by creating a data-driven culture and increased efficiency.
Source: Datapine
The platform can be useful in multiple facets of your business: HR, customer service, finance, marketing, IT, and procurement. Anytime you need to track a KPI, you can easily create a Datapine report and monitor your company's performance in real-time. An account with Datapine starts at $249 per month.
Conclusion
The importance of business intelligence to the modern corporate landscape can't be overstressed. Aside from helping businesses figure out their current state, BI also helps them detect trends and determine where they want to be in the future.
The business intelligence tools we've discussed are all widely used across different industries. Like IBM Cognos, some are more suitable for very large enterprise users, while others, such as Zoho Analytics and Magento BI, are ideal for smaller businesses.
While these 12 examples offer similar features, there are differences in layout, features, capability, and capacity that can dictate how your business can use them. Search the list to find the one best suited for your business's requirements.